May 8th, 2009 by evan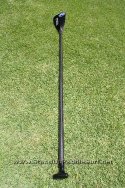 Here is the recent interview I did with Dan Gavere, Werner Paddles' Sales representative for the southwest of US and Hawaii, on the Werner Nitro SUP paddle. Dan was staying on the North Shore of Oahu and we got a chance to SUP together. We had a blast and then had a filling dinner at Haleiwa Joes. I've been using the Werner Nitro since it was a prototype in the middle of 2008. It's my favorite paddle in the Werner line.



(click thumbnail to launch video)
Dan Gavere introduces the new Werner Nitro paddle with an all carbon fiber design. It has a similar shape with the Werner Carve paddle. It has a 100 sq. in, elongated blade shape, which releases from the water much better from the standard teardrop shape. I think at its wide point in the blade the width is under 7.5″. The paddle is really light, with the one piece weighing around 20 oz.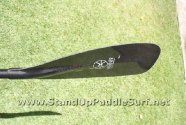 Nylon edging and a dihedral blade for the Werner Nitro SUP paddle

The high aspect (long and narrow) elongated shape of the Nitro allows you to "change gears" by allowing the paddle to dip into the water as much as you need.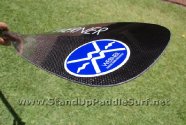 Carbon fiber with foam core blade

The Werner Nitro paddle is also composed of a full carbon weave material with foam core, dihedral on the front and backside and has a very dynamic blade. It is also a pre-preg, hand-rolled in the United States with shafts custom made for each paddle. Ok, that's a lot of jargon so watch the video for what that all means in layman's terms.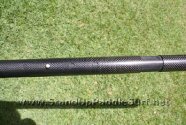 Werner Nitro adjustable-length paddle shaft (Adjustable Ferrule)

Dan shows the Nitro with the 4.5" adjustment settings, each at 1.5" apart. The one that Dan used for this demo is the 78″-82.5″ which can be adjusted easily, and goes back to the exact same spot, even when you're using it in the water.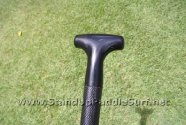 ABS Palm-style grip for a good fit and controlled strokes

I asked Dan about the blade composition and he explained that pre-preg is the carbon that is pre-impregnated with resin. They use materials with cloths that already have resin on it and subject to superior molding process. This is the most efficient way to make the paddle durable, light and not brittle. They also use nylon materials for the edging, which is about .25 inches wide that goes around the entire blade, designed to keep the blade from delaminating or breaking, in case it strikes the reef or the rocks.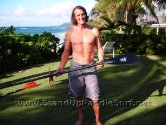 Dan Gavere with the Werner Nitro SUP paddle
Related posts