May 14th, 2009 by evan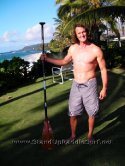 With me on this video is Dan Gavere from Werner Paddles who is going to show us the new Carve SUP paddle. Dan shows us how durable this paddle is, by leaning and putting all his weight on it yet it's still holding up. I don't think I would allow Dan to do the same thing on my paddles. But it's amazing how the Carve is able to sustain such pressure and not break.



(click thumbnail to launch video)
Even when it hits the rock when you are on the water, it still holds up. According to Dan, it is the Werner principle of making paddles that can endure the worst conditions in the water and be able to rely on the paddle to take you to safety.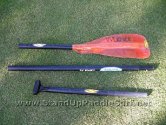 Werner Carve SUP paddle 3-piece adjustable length shaft

The paddle has been with Dan for six months already and he has taken it to river, running, bracing against rocks and rapids. The Carve paddle is Werner's new 3-piece design; it is adjustable to smaller pieces for easy transport. It is also easy to assemble and store. The shaft is adjustable to four positions or depending on the paddling style, conditions and desired length.
When I asked him about possible leaks on the adjustment area, Dan said that below the holes, the shaft is tightly sealed. The paddle also stays afloat even when left in the water because there is air trapped inside.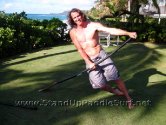 Dan Gavere showing paddle durability of the new Werner Carve paddle.

As proof to Werner's "bomber" durability, Dan leaned on the paddle putting all his weight on it and it did not break. He even asked his pet dog to get on the small blade and it still holds.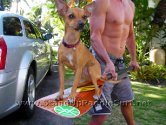 Dan Gavere's pet dog on the Werner Carve blade.
Related posts