June 15th, 2009 by evan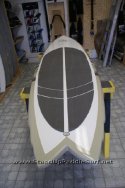 I took the opportunity to capture some of Jim's thoughts on video during a recent visit to his shop. We discussed Tropical Blend's '09 line of SUP boards and this video focuses on the Kai'e'e, a 10′6″ SUP shaped by Jeff Bushman.

(click thumbnail to launch video)


According to Jim, the Kai'e'e was Jeff's idea of a surfing board for a wide range of folks. Its 29¾" width provides enough stability while its and 4 ¼" thickness allows for the float. SUP riders from beginner to intermediate find the Kai'e'e a nice, stable ride and a good transition from their long boards.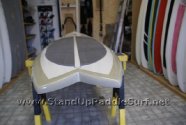 The 10′6″ Kai'e'e sports a swallow tail and relatively flat deck.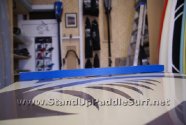 Single concave from rail to rail in the bottom

Bottom contours include a single concave from rail to rail terminating in a double concave near the fins.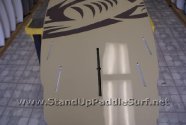 Five-box configuration allows lots of flexibility for the Kai'e'e.

This board is set up with a five box configuration that allows the rider optional fin setups. You can ride the Kai'e'e as quad-fin, 2+1 or a twin with a small trailing fin. Jim has found these options to be really helpful for those looking to develop their skill sets. He said it's a really nice board to move towards as you scale down from the bigger, fuller boards.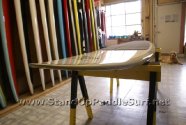 The 10′6″ Kai'e'e has a more pointed nose for better performance in the surf.
Related posts