July 6th, 2009 by evan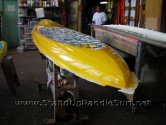 During my visit to Maui for the Olukai Race I got to see the 'hatching' of the Sandwich Island Composite F-14 SUP race board. It was a fairly simple process as you'll see in the short video I took.



(click thumbnail to launch video)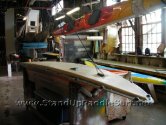 S.I.C. F-14 SUP in the Mold

It's amazing that the board comes out shiny and new. The picture of the bottom side below shows how slick the bottom looks straight out of the mold.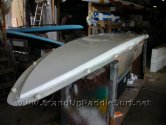 S.I.C. F-14 SUP bottom half

The top half already had the EVA deckpad attached. I'm not sure how it was done like that but it almost seemed like magic.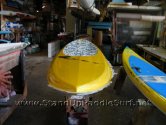 S.I.C. F-14 SUP top half

Add in a little touch up and this board will be ready for delivery to a happy customer. If you want one, the wait is still roughly 3 months from S.I.C. or you can try to preorder one from Tropical Blends Surf who has some already on order.
Related posts