July 3rd, 2009 by evan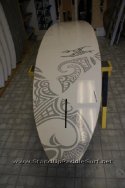 Tropical Blends' '09 line of SUPs includes a board designed for the "big guy that wants to surf" says Jim Hayes (Tropical Blends owner). "If you're in the 200+ weight range with a good set of skills, the Moku is 11' 7" of surfing pleasure" Jim continues. At 31" wide, 4 1/2" thick and plenty of rocker, this board is meant for performance. Here's a video with Jim providing the details about the Moku.

(click thumbnail to launch video)
Jim says that this board was designed to give the rider increased stability by providing additional foam under the rider's feet in the middle part of the board. Jim calls this his "island of foam" concept. The idea is to give the rider additional floatation in the standing area on the board while foiling it out toward the rails and ends to help it perform better in the surf.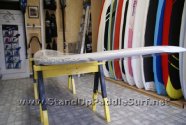 Foil and rocker on the Moku 11'7"

 Jim said that the Moku is specifically designed for a bigger guy who wants to surf. It has a substantial surfboard rocker and smooth downturned rails.
The Moku is set up to accommodate a 2+1 fin configuration with a "moon" tail.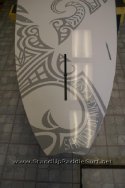 Moku 11' 7" moon tail with 2+1 fin set-up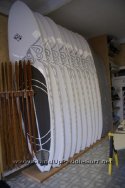 Wall of Moku 11' 7" – at the Tropical Blends' Stand Up Shop.
I thought that the Moku would also be a good tandem board. Visit the Shop and tell Jim StandUpPaddleSurf.net sent you.


Related posts