August 7th, 2009 by evan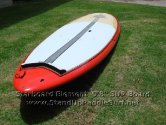 I recently got a Starboard 9′8″ x 30″ Element SUP and have been enjoying it in the early south shore swells.  At first, I was a bit surprised to see the center fin.  It has a lot more rake than the other center fins I've been using.  This board was designed by Svein Rasmussen and Scott McKercher.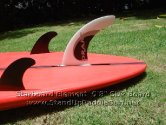 2+1 fin setup with "rakey" center fin
I decided to set it up with the stock fins to test how it performed before judging it and changing out the fins.  I have to say I liked the stock setup.  I tried changing out the side fins to True Ames 4.5″ fins but like the feel of the stock sides better.  This board uses FCS fins, not Future Fins.
The nose on the board is fairly wide which makes it stable and also makes it very easy to nose ride.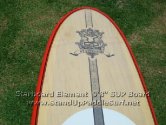 Wide nose with VersaTraction installed
The tail is pretty narrow which makes this board turn and surf like a shorter board.  This was a pleasant surprise.
Narrow rounded pin tail
I got the Sportech construction which has a nice wood laminate on the deck.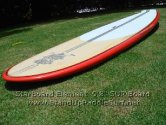 Sportech construction
The Element comes with a full deck pad and a kick pad on the tail.  I especially like the standing area.  Starboard made that area a different look and texture so it's really easy to know exactly where the middle section is.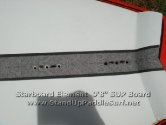 Kick pad and accessory mounts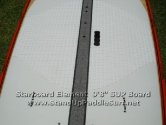 Standing area pad
They have a pre installed handle and lots of attachment points to connect wind surfing gear and accessories for the tail.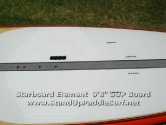 Handle and attachments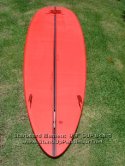 Bottom
So far I'm really enjoying this board.  At 200 lbs, the volume is just about even for me.  I've been riding 10′ and 10′6″ SUP's and miss the paddle power but this 9′8″ surfs better than the larger boards.  I guess it's a give and take situation…paddle power or surfing.  On any given day that may change for me.  I let my friend who doesn't SUP try it in chest high south shore waves and light winds.  He's 200 lbs and it took him an hour or so to get used to it, but he did really well after that.
Related posts