March 22nd, 2009 by evan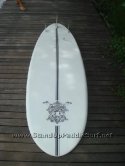 I took this video last year during my trip to Bangkok, Thailand where I met with Starboard's Svein Rasmussen and Margareta Engström at the Starboard HQ. While at the headquarters, Svein showed me the 9'8"x30 Tufskin Black Camo.

This tri-fin set-up board is impact resistant because of its very thick glass skin according to Svein. The refined rails and short length allows this board to paddle straight with volume giving fluidity through turns. Svein said that this is a "step-down" (in size) from the 10' – 11' boards which some guys use. I also noticed some mounts for the foot straps, which Svein said would be for guys who would want to go hard core will find this as the proper support against falling off the board.
Another interesting thing that I found out about the 9'8 x 30 SUP board is that it could also be used for windsurfing. It has a provision for a rig, which you can put on if you want to try windsurfing instead of sup surfing.
Check out this video to see more of the Starboard 9'8 x 30 Tufskin SUP board.


(click thumbnail to launch video)
Related posts