October 22nd, 2009 by evan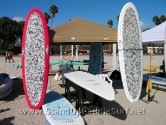 I took this video during the 2009 Battle of the Paddle at Doheney Beach, California where I met up with Joe Blair and he showed me a couple of his new boards.

Check out the video:


(click thumbnail to launch video)

Here's the scoop on Joe's new designs:
First, the softtop "Sponge Bob" stand up board. According to Joe, the board has the same deck pad as his other boards, soft rails and a pvc bottom with a 3-fin setup that's a little moved-up so it's a lot more maneuverable.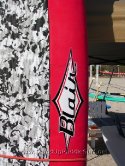 Soft Rails on the Blair Softtop SUP

Joe designed this board for surfing and according to him, it rides almost like his sandwich construction boards but a tad slower because of the rails. This is a good board for use in rentals and as a beginning board. It's wider, so it's more stable and it has a good nose kick so you don't pearl.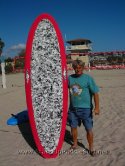 Joe with the "Sponge Bob" softtop SUP Board…or is it the SUP Board and "Sponge Bob"? – Just Kidding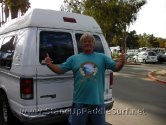 Joe Blair flashing the double shaka

Next is the infaltable 10′ stand up board. Joe made this board 32 1/4″ wide to be stable for everybody. It also has a moved-up, thruster fin setup to make the board turns tighter. The bottom is flat, which, according to Joe makes this board pretty fast and the thick nose makes this a great nose rider. This is a great board for the river because it won't ding and just bounce off everything.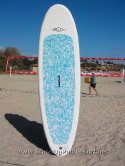 The Blair Infaltable 10′ SUP Board
Related posts