December 1st, 2009 by davi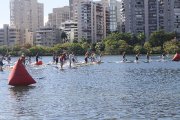 The San Juan SUP Run – 11/15/2009 By EJ Johnson
I am so stoked to have been able to participate in the First Annual Velauno-Pro SUP Run in the beautiful and exotic Puerto Rico, from the flat protected waters of Condado Lagoon to the challenging Atlantic.

31 Elite paddlers from the Virgin Islands, Florida, California, and Puerto Rico, were put to the test during this 7.5 mi. part lagoon and part open ocean challenge. The start was 9:30 am sharp, and for once the start was clean, because the racers were warned if you jump the line you will be penalized 5 minutes.
We headed east for 100 meters and made a 90 degree right turn under the low highway bridge, and were greeted by some solid overhead surf.
I made it through no problem, but you had to be very careful not to cut inside of the reefs. I was lucky to have had a great start with Puerto Rico's premier waterman Adrian Garcia.
I let Adrian get in front of me a bit, so I could use his local knowledge to keep the right line.
It was so beautiful, seeing old historical sites and reefs, that are so alive and clean, it was tough to concentrate on paddling hard.
I was going good for about 2.5 mi., when the heat (90 F.) along with high humidity set in. My lungs felt like I was inhaling concrete, it was so hard to get air.
I started to get a little dizzy and vertigo'd out, so I had to bring down the pace to 60% (around 40 strokes per minute)
One big mistake I made, was no hydration, typically I don't use any for races under 10mi. Although this race should have been he exception given the temp.
The Island was blocking the South wind,which is normally out of the East and would have made for the ideal downwind condition that my (New) Starboard 12′6×23.5 just kicks into overdrive, reaching up into the 8.5 mph range.
I finally reached the San Juan bay entrance, and was greeted by calmer waters and a cooling south wind.
At this point Adrian is about 75 meters ahead of me, and to his advantage on his Bark 14′ in the flat harbor water.
I was able to kick up my pace, but in a paddle board race, there is no such thing as "I'll catch um later"
Once you let your competition get ahead of you, it's almost impossible to catch them, unless they fall, or hit the wall.
We now were passing the docked cruise ships and million dollar private sport fishing boats. I was still feeling the heat, so I quickly downed my last Hammer gel/with caffeine, and grinded out the last 3 miles. It was definitely a long 7.5 mi. for me. I could see and hear Adrian hit the beach for the short spectator run, he was greeted with much Aloha and support from friends and family.
When I came in, I was Stoked that people I didn't even know, were cheering me on, and telling me to run faster(which I couldn't, but I played it off). I high fived everybody, and headed straight for the turquoise water to lower my body temp.
I downed three waters and relaxed into a state of total chill. I cheered on all the other guys and gals, while talking and letting folks try my board out.
All in all, I had a great race, winning the 12′ 6″ class, and 2nd overall in the Elite division.
My wife Andie, also enjoyed in a 1st place win herself, in the Weekend Warrior division on a borrowed board, but she remembered to bring her favorite Starboard carbon Wave model paddle.
The kids race was full of smiling faces, and also of young warrior game face.
We were settled in watching the kids go at it, when a giant wall of blackness envoloped the whole Island.
First, there was light rain, then heavy, now a full on tropical down pour with thunder and lightning.
In California, this would have immediately canceled the whole event, but Puerto Rican people just kept with the flow, hoping that it would subside.
Mother Nature had her own idea, and that was to keep raining. The race director and Velauno shop owner Jaime Torres, told me by the time they finally packed up, there was two feet of water surrounding the tents.
It rained the rest of the day and all of the next day too, but I guess that is why P.R is so green and lush.
We had an awesome time there, and were shown much Aloha, by the locals, and especially Jaime Torres and the Velauno staff.
Definitely put this event on your calendar for next year It will be Bigger and Better.
Many Thanks to Svein, Margareta and the entire Starboard family.
Respectfully
EJ Johnson.
Related posts