December 1st, 2009 by evan
I saw some interesting products on display during the 2009 Battle of the Paddle. Among them was the Blue Goo board cleaner and Xtreme Cream bottom coating from On It Pro. Check out the video for a demo on how to use them on a stand up board:



(click thumbnail to launch video)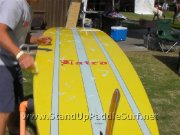 Cleaning the board with Blue Goo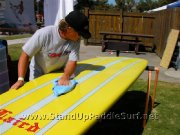 Wipe clean to remove excess Blue Goo then apply Xtreme Cream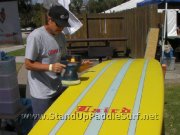 Using a buffing machine to polish and push the Xteme Cream more into the board

According to the guys at On It Pro, the Xtreme Cream can increase a board's speed by over 15% by reducing friction on the bottom surface. That's a big difference when you're racing. 15% translates to 9 minutes per hour. I applied the Blue Goo and the Xtreme Cream to my F-14 and F-18. To the touch, it feels smoother and more 'slippery'. In the water it's a bit harder to tell. My instinct tells me that it has some effect although I'm not sure on the exact %.
On my way out to the blinker buoy the other day in Hawaii Kai I did notice that the glide on the F-18 felt better and my GPS pace was around .5 minutes/mile faster than normal but that also gets affected by wind and current. I've put car polish on boards before and this one seems to be better. One thing to note, the blue goo is a good cleaner. It takes off all the scuff marks left by paddles.
If anyone out there has used this stuff and gotten results, please post a comment and let us know.
Related posts