February 8th, 2010 by evan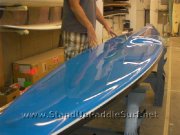 On my recent visit to Joe Bark's HQ, he showed me their latest racing stand up paddle board, the 14′ "Dominator". According to Joe, it is the fastest and most stable 14′ that they have ever put out. They tested over 20 prototypes to get this exact board. The "Dominator" is shaped similar to one of their 12′6″ boards, just stretched out with a few contour changes. It has a flat deck which goes into a dome at the nose, a wide square tail, flat bottom and a piercing nose.



(click thumbnail to launch video)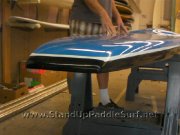 Wide square tail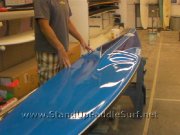 The flat deck with the dome towards the nose to repel water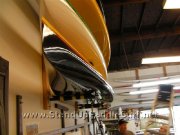 Piercing nose
The board that Joe showed me comes without a rudder but according to him it can be fitted with one. They are actually working on a version with a rudder for use in channel crossings.
I was able to meet up with Scott Gamble, the winner of the 2009 Duke's Oceanfest Race. Scott finished the 9 mile (my GPS showed 9.5 miles) race in 1:15:26. That's an average speed of 8.3 mph. For those who don't race, that's really fast! Scott also showed us the 14′ SUP racer that Joe made for him to test.


(click thumbnail to launch video)
Related posts