February 19th, 2010 by davi
Top US paddler Ernie (EJ) Johnson from California will race in the SUP class in this years Highland Spring HIHO event.

EJ, a multi-race winner in the fledgling SUP circuit is juiced to be racing in what is shaping up to be the best long-distance event in the sport.
"I'm very excited to race for 6-days through the British Virgin Islands," he said. "Living on a yacht and touring through the islands will be great. When I first started in this sport, I had no idea where it might lead me and to be invited to such a prestigious event was beyond my expectations!"
Johnson was last in the Caribbean in November when he won Puerto Rico's first pro paddle event.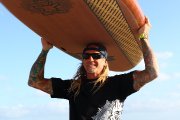 Related posts