March 15th, 2010 by evan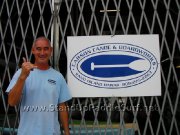 On the referral of Jeff Chang at Wet Feet and Robert Stehlik at Blue Planet Surf I took in my board for a small repair to Clay Carson. He specialized in fixing carbon boards, canoes, etc and has a reputation of being the best. If you need a fix, call him at 808-225-2263 and let him know I sent you.

My F-18 had a few small pin hole leaks in the tail and instead of doing an ugly job to fix it, I just took it to Clay to do it right. Unless you look close, you can't tell it was reinforced.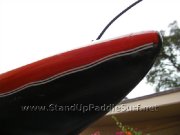 Related posts