April 26th, 2010 by evan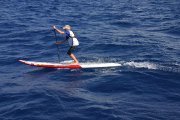 Congratulations to Connor Baxter for winning the Stand Up Solo division at the 2010 Sarento's/Kai Wa'a Maui to Moloka'i Challenge. Here's a recap of the race from Connor.
I just finished the Maui to Molokai event on Saturday April 24th, put on by the Maui Canoe and Kayak Club (www.mauicanoeandkayak.org). The race was really fun and all the people were super nice and helpful. In the event there were a total of 14 or 15 SUP soloist including Livio Menelau, Alan Cadiz, Thomas Maximus Shahinian, Campbell Farrell, Jack Dyson, Ann-Marie Richman, Donna Badome-Raaphorst – to name a few. And there was one SUP relay team Mark Raaphorst and Jeremy Riggs. The race was 27 miles long from Flemings Beach, Maui to Kaunakakai Harbor, Molokai. The race started at 8:30 and the conditions were favorable with moderate tradewinds. The winds at about 15-20 mph, were coming from the northeast which is excellent for this channel crossing.
At the start, I was windward of most everyone. And, throughout the race I stayed between my competitors and the Shoreline of Molokai. Jeremy and Livio shot out in front in the beginning of the race. Thomas, Jack, Campbell and I seemed to be in the second group. Then Campbell and I stayed high and cut across the swells, as most others ran down with the swells towards Lana'i in the middle of the channel.
Within the first hour into the race, competitors were spread out – and I was up in front with Livio, Mark and Jeremy. And, we stayed this way for the rest of the race. Mark & Jeremy in front and Livio and I right behind. I stayed windward of them, and this tactic proved to be the correct decision.
About half way through the race, out of nowhere a whale came up 10 feet in front of me and I had to stop, otherwise I would of hit it. I also saw flying fish and spinner dolphins along the way.
My support boat consisting of my mom, dad and friend Mike, and were my source of extra energy giving me packets of hammer gel, hammer perpetuem and "poi". I had my Dakine waterpak on for hydration.
After hours of paddling towards Kaunakakai, Mark & Jeremy and I were still neck and neck. As we headed towards the harbor entrance, Mark & Jeremy had to head up across the swells and wind and I was on the perfect rhumb line running with the swells and wind. After over 3 hours we were within a few minutes of each other. But they were doing it as a team – and I was solo – so this was the extra boost that made me paddle even more. Knowing that I could be first overall was a huge encouragement.
So after 3 1/2 hours, I did come in FIRST overall. I was the first SUP racer onto the beach. What a great feeling of accomplishment.
I included some photos my mom took along the way.
I would like to thank all my sponsors for their help and support. Starboard SUP, Nike USA, Dakine, SIC, Sun-Rite Maui, Waterman's Sunscreen, Smith Sunglasses and Ion Wetsuits.
Aloha -
Connor Baxter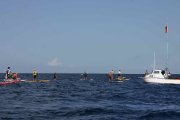 Start of the Maui to Molokai Race (27 miles) – Saturday April 24th – 8:30am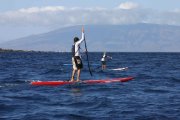 After Start: Campbell Farrell, Connor Baxter and Jeremy Riggs – heading out to the Pailolo Channel – The Island of Lana'i in the background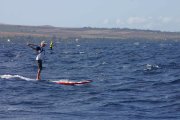 Connor Baxter Stretching, Alan Cadiz to leeward – Maui in the background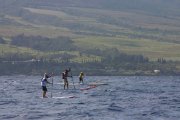 Connor, Thomas "Maximus" Shahinian, Alan Cadiz – Maui in the background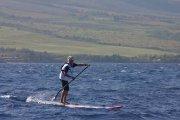 Connor heading to Molokai – Maui in the background
Connor catching some good glides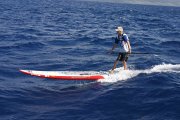 Connor in the Pailolo Channel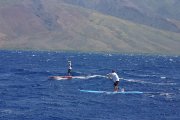 Connor and Jeremy Riggs – The Island of Moloka'i in the background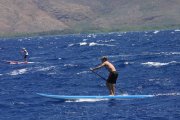 Connor and Mark Raaphorst – The Island of Moloka'i in the background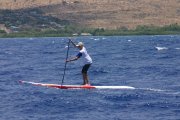 Connor – approaching the town of Kaunakakai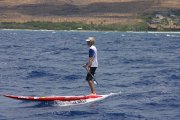 Connor – approaching the town of Kaunakakai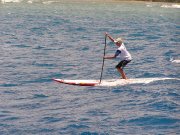 Connor heading to the Channel Marker for the Kaunakakai Harbor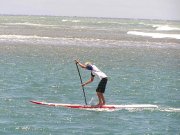 Connor in the Channel heading to the finish line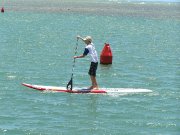 Finish line only 500 feet ahead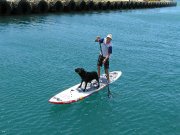 1st place overall – Connor and his dog Leilani
Related posts