June 30th, 2010 by davi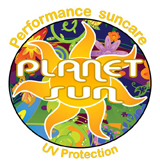 Aloha to Sports Fans and Kids of all ages from the USO lounge at LAX. A very special on the road transmission!
Last week Shonny Vanlaningham placed second overall at the the XTERRA Eastern Championships in Richmond VA. A spectacular showdown ensued and continues among the top 3 PRO ladies of the sport- Shonny, Melanine McQuaid and "Swiss Miss", Renata Bucher. An incredible site at the bike leg where the 3 super heroines raced tire- to- tire at times. Shonny delivered the fastest bike split, but Bucher was unreal on the run. Shonny still leads the US Series as the top female pro on the circuit. Shonny's next stop is the XTERRA Mountain Championships in Beaver Creek/Avon Colorado, 17 July. All eyes on Shonny and Bucher, as the two continue to battle it out for first place finishes (both are smokin hot too). Check out here brief report at http://teamlunachix.com/proteam/racereports_entry/shonny_extends_her_lead_in_xterra_u.s._series
Planet Sun teams up Miles for Melanoma (MFM) for a good cause. This past week Mr. Sunshine splashed down in Virginia, to assist Miles for Melanoma leadership in a noble cause. Mr SS linked up with close friend and skin cancer crusader Kevin Stenstrom, to provide performance suncare clinics at several running stores in the area. Kevin, a prolific marathoner and melanoma survivor, developed the foundations for the TeamM4M program. Clinic attendees walked away with some good sunsafesmarts, PS gear and a whole lotta inspiration from Kevin.
Planet Sun is a proud sponsor of Miles for Melanoma (M4M), a national fundraising program initiated by the Melanoma Research Foundation (MRF)- the largest independent, national organization devoted to melanoma. "TEAM M4M" is a marathon training program led by seasoned marathon coaches who provide runners at any level an extensive training program and guidance. All proceeds to support promising medical research and to raise melanoma awareness. MFM chapters are popping up all over the US. See more about TeamM4M at: http://www.melanoma.org/get-involved/teamm4m-marathon-training-program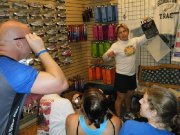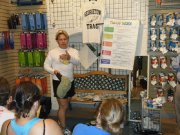 Abby Mason continues to shine, inspiring many at the recent Trek all Women's Triathlon in Pleasanton, CA.
The All American Girl stroked the second fastest swim of the day, leading to a 4th overall/ and 1st Age Group finish.
Watch for her training in the streets of SANFRAN

Mike and Sandy Ferreira lit up the Fire Cracker Sprint Triathlon on Oahu. Mike 5th overall, 1st in AG and his bride, Sandy- 2nd Overall for the ladies.
Planet Sun now on FaceBook- Facebook will never be the same. Please become a fan, friend, like us, etc..
On the Horizon. Big Doings this weekend 3-4 July at the Camp Bennett-Eck Freedom Fest- a Multi-day, Multi-Sport High Adventure extravaganza in Kualau Ranch featuring a mountain bike race, trail run race, and off road triathlon. Proceeds to benefit the LUNGevity foundation.
Also, the incredible 32nd ANNUAL HUI O HE'E NALU INDEPENDENCE DAY PADDLEBOARD & STAND UP PADDLE RACE at Waimea Bay- 4 July
Planet Sun is suncare provider to both events
On 10 July catch us at the Lanikai Volley Ball Tourney on Oahu
Much more fun to come… please stay tuned.

John O'Malley
President, Chief Motivator and Inspirator
Planet Sun Comprehensive Sun care and UV Protection
ph: 808 372-6018
fax: 808 254-4110
www.planetsunhawaii.com
Related posts