July 21st, 2010 by davi

M2O PRESS CONFERENCE:
Thursday, 7.22.10. 1pm Hula Grill, Waikiki
(above Duke's Restaurant in the Outrigger Waikiki)
32::32
Share Your Aloha, Pledge a Dollar a Mile
Sunday, July 25, 2010 Molokai2Oahu.com

HONOLULU (July 21, 2010) – This Sunday's Molokai-2-Oahu Paddleboard World Championship isn't all about crossing the finish line; the prestigious 32-mile race across the Ka'iwi Channel is anchored in aloha and will be giving back to four local charities on Oahu and Moloka'i through their 32::32 initiative.
The concept of 32::32 is a donation of a dollar a mile, or $32 for 32 miles, and donors who pledge 32::32 will receive a limited edition t-shirt and hat. Donations can be made at the official race website of Molokai2Oahu.com and proceeds will benefit these Molokai-2-Oahu Paddleboard race non-profit partners who represent the local community & Hawaiian education: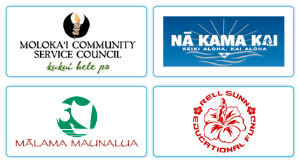 The Moloka'i Community Service Council – provides grants to projects that the Moloka'i community collectively deems important or necessary, such as anti-drug programs, health services, legal services, economic development and environmental initiatives.
Nā Kama Kai – Hawaiian for "Children of the Sea", Na Kama Kai encourages youngsters by promoting the ocean lifestyle, as opposed to just surfing lessons. The non-profit organization holds free ocean awareness and safety clinics where children are able to interact with prominent members of the waterman community.
Mālama Maunalua – a community-based group that helps care for the Maunalua region of southeast O`ahu, which includes the finish line of the Molokai-2-Oahu race. Malama Maunalua is dedicated to creating a healthy Maunalua region. They are a collaboration of more than a dozen partners including the Polynesian Voyaging Society, Hui Nalu Canoe Club, Mālama Hawai`i, NOAA, the University of Hawai`i and The Nature Conservancy, working together to create a community-based marine education and resource stewardship program.
The Rell Sunn Education Fund is a public benefit, non-profit organization exclusively for charitable, scientific and educational purposes. Their goals are to educate the public about sportsmanship and environment, combat juvenile delinquency, and provide funding to battle breast cancer.
"We are super excited to be a part of the biggest paddle boarding event in the world," said Alika Winter, Makai Watch Coordinator for Malama Maunalua. "We are greatful for all of the support and we wish every one of the competitors a fast and safe crossing."
"Rell would be so happy to see so many athletes, especially women, embrace the challenge of crossing the Ka'iwi channel," says Jan Sunn, speaking on behalf of the Rell Sunn Education Fund. "The sport is reaching so many new bodies of water worldwide that it's a great opportunity to further the passion of a woman whose whole being was derived from the water and giving back to it. Ho'omaika'i 'ia 'oukou pakahi! The best to each of you and may the best be brought out in each of you."
The 14th annual Molokai-2-Oahu World Paddleboard Championship takes place this Sunday, July 25. The race starts around 7am at Kaluakoi, Molokai, with the first finishers expected around midday.
Media Contact:
Jodi Wilmott, Ocean Promotion
Related posts