January 13th, 2011 by davi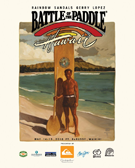 Important letter from Sparky
Aloha racers and friends of the Battle of the Paddle,
We are very excited about returning to Hawaii May 14 & 15 for the Battle of the Paddle. Last year's events were unbelievably exciting and lots of fun for us. We saw phenomenal growth in our sport and our event's success is due to your enthusiastic support. We are very proud to continue the Battle of the Paddle for 2011.

Regrettably we have learned there is conflict with another SUP event on Maui in mid-May. Obviously this is a great disappointment and it certainly is not our intention to have competing events.
We want to mention that Rainbow Sandals was in contact with the Maui event group in late 2010 and it was communicated to us that they were scheduling for a later weekend in May. With this information we respectfully chose May 14 & 15 for BoP HI. Unfortunately since we have begun planning and inserted advertisements for the event, we are not able to change the Battle of the Paddle Hawaii dates.
For our upcoming Hawaii event, we ask you to register now so you can guarantee your spot in the races. Due to overwhelming demand, safety and permitting issues we ask all competitors to register sooner than later so we can better plan & prepare. At last year's event we did run out of sandals, tees, jerseys and food because of last minute entries. If you wait until the event dates to register we cannot guarantee we will have your specific sandal or tees size available and the entry fee will be more expensive.
Please register online here: http://battleofthepaddlehawaii.eventbrite.com
All names registered will be published and take priority in case we have to limit the number of race entries. By registering early you can also enjoy better rates for hotel rooms and flights to Hawaii. Stay tune for official Battle of the Paddle travel & accommodation rates from our sponsors.
Please contact event coordinator Barrett Tester (events@rainbowsandals) with any questions or assistance about your entry or registration for the Battle of the Paddle Hawaii.
We look forward to seeing you on Duke Kahanamoku Beach this Spring.
Much Aloha,
Sparky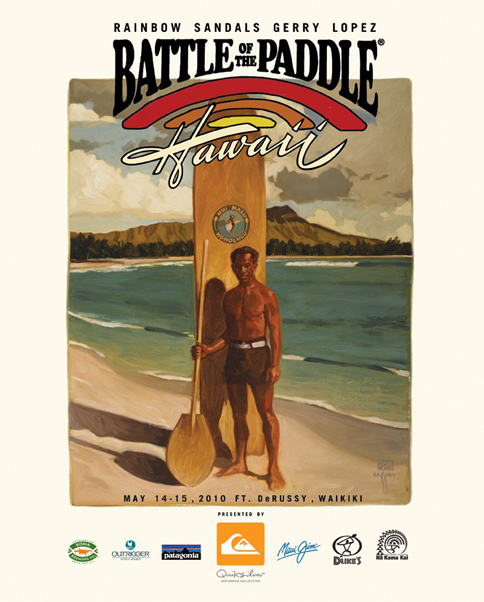 gohawaii.com – click here
activehawaii.tv – click here
IMPORTANT EVENT UPDATES BELOW !

Rainbow Sandals Gerry Lopez
Battle of the Paddle
Presented by Quiksilver Waterman Collection
May 14 & 15, 2011
Duke Kahanamoku Beach, Ft. De Russy Beach Park, HI
Come celebrate the modern waterman's lifestyle at the Rainbow Sandals Gerry Lopez Battle of the Paddle Hawaii. The Battle of the Paddle is a world-class stand-up paddle festival and exposition that includes races and demonstrations for all ages and skill levels.
Staged at historic Duke Kahanamoku Beach (Waikiki) May 14 & 15, 2011 the Battle of the Paddle is more than an ordinary paddle race. For the sport's top paddlers, The Elite Race is an exciting championship styled surf race that offers the sport's largest cash purse of $25,000.
The Battle of the Paddle also has an Open Age-Group Race, Distance Race (Hawaii Kai Run), Kid's Races and SUP Relays. At last year's event, the Hawaii Kai Run had the largest SUP field ever assembled in Hawaii with over 230 paddlers. This year's races are promising to be even bigger, so come and be a part of history in the making. All races are open for entry.
Want to learn more about SUP? Come visit the Battle of the Paddle SUP Expo. Meet the world's best board, paddle and SUP equipment manufacturers and check out their latest designs and new innovations. There will be a rainbow of boards and paddles to demo at the event site.
Immerse yourself in local Hawaiian culture and community. Kanalu will be on site with Tom "Pohaku" Stone shaping ancient style surfboards and providing a cultural education exhibit. Na Kama Kai will also be there with their ocean awareness program, children's activities and organizing kids SUP races & relays throughout the weekend.
Everyone who enters The Battle of the Paddle Hawaii will receive a pair of commemorative Battle of the Paddle Rainbow Sandals, event tee, lunch and cool event swag. A special welcoming party and aloha concert will be hosted by Quiksilver Waterman Collection on Friday evening, May 13, featuring local musicians. Event proceeds will directly benefit the Hawaiian Community.
Whether you're racing for the prize or just want to get your feet in the waters of SUP for the first time, The Rainbow Sandals Gerry Lopez Battle of the Paddle Hawaii is the perfect way to experience the rich tradition of Hawaii's original surf lifestyle.
Thanks for your support in making the Battle of the Paddle Hawaii one the year's great events. Please email events@rainbowsandals.com for any questions or more information.
Much Aloha,
Jay "Sparky" Longley, Gerry Lopez, Pat Huber & Barrett Tester

Rainbow Sandals Gerry Lopez
Battle of the Paddle Hawaii
Presented by the Quiksilver Waterman Collection
DATE: May 14 & 15, 2011
TIME: 9:00 A.M. opening ceremonies
LOCATION: Duke Kahanamoku Beach, Ft. De Russy Beach Park, Hawaii
Online Registration: Click here
Related posts