May 5th, 2011 by davi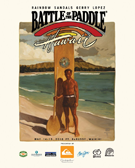 Getting ready to go Hawaiian?
Battle of the Paddle UPDATES !!!
Come meet legendary surfer and great friend of Rainbow Sandals, Gerry Lopez, at Nordstrom Ala Moana Friday May 13 from 2:00pm to 3:00pm.
Click here for event flyer
Looking for a race board to rent?
Surftech Rent to Race Board Program
$75.00/day first come first served.
To reserve a board, call 808-596-8693 or bobby@surftech.com
Click here for flyer
Don't miss the greatest SUP party in Hawaii… The official Battle of the Paddle welcoming party at Quiksilver Friday evening (5pm to 9pm) May 13 @ the Quiksilver Store on Lewers.
You must be a competitor, exhibitor or sponsor to get in the door.
Click here for party flyer
Battle of the Paddle Hawaii to be broadcast "Live" throughout the islands on
Oceanic Time Warner Cable.
Click here to watch this killer intro…
- The 2011 Battle of the Paddle will be broadcast live and in its entirety, May 14th and 15th on Oceanic SURF Channel 250 & 1250HD.
Racers —Online Registration closed Thursday night @ 11:55pm – You can register at the event site if you miss the cut-off, however, it will be more expensive.
Event Registration BoP HI – click here
Got Kid's? enter them in the Keiki SUP Races being hosted by Na Kama Kai. For boys & girls 8 & under, 9 & 10, 11 & 12 and 13 & 14 will race on a short course in front of the camera & crowds !!!
Event Registration BoP HI – click here
SUP EXPO: Want to market & promo at the most excellent event? Sign-up now for the Battle of the Paddle Hawaii SUP EXPO that will be set-up on the golden shores of Waikiki Beach. Spaces going fast! Last day to register is Friday May 6.
Download SUP EXPO form here
Event site map here
Looking for some killer travel & hotel deals to Hawaii? Check this link:
BoP Travel Specials – click here
Have you had a chance to check out our new

Battle of the Paddle website?
Get the latest event info & bookmark the webcast !!!
battleofthepaddle.com
Check out the special Outrigger Hotels BoP HI room rates from as low as $89 per night:
Book Outrigger Hotels BoP rooms-click here
Explore the latest on Hawaiian Travel with our sponsor Hawaiian Tourism Authority:
gohawaii.com – click here
activehawaii.tv – click here
ESSENTIAL EVENT INFO

RAINBOW SANDALS GERRY LOPEZ
BATTLE OF THE PADDLE
RETURNS TO HAWAII May 14 & 15, 2011
Presented by Quiksilver Waterman Collection

- Duke Kahanamoku Beach, Ft. De Russy Beach Park Oahu, HI
- Na Kama Kai to Conduct Free Hawaiian Ocean Skills & Education Clinics
- Stand-Up Paddleboard Races, Exposition, Demonstrations and Fun!

Honolulu, Oahu, HAWAII (March 22, 2011) — The world famous stand-up paddleboard (SUP) races and SUP lifestyle exposition known as the Rainbow Sandals Gerry Lopez Battle of the Paddle returns to Oahu, Hawaii, May 14 & 15, 2011, presented by Quiksilver Waterman Collection. The weekend's events will also be webcast live at www.BattleOfThePaddle.com .
Join us at historic Duke Kahanamoku Beach in beautiful Waikiki as more than 700 of the fastest and fittest men and women on water gather from around the globe to test their skills against the majestic blue Pacific ocean. The weekend of fun, fame and festivities offers something for everyone:
Beach expo, novice races, championship battles, family and team relays, demonstrations, and hair-raising action! There's something for all ages and skill levels.
FOR THE ELITE: The Battle of the Paddle is an exciting championship styled surf race that offers the sport's largest cash purse of $25,000. Think NASCAR meets surfing, as racers battle it out on a multi-lap course that takes them through the surf and onto the sand for a short run.
FOR ALL PADDLERS: The Battle of the Paddle has an Open Age-Group Race, a Distance Race (Hawaii Kai to Waikiki), Kids Races, and SUP Relays. Last year the Hawaii Kai distance race had the largest SUP field ever assembled in Hawaii with over 230 paddlers. This year promises to be even bigger, so come and make history! All races are now open for entry.
FOR THE FAMILY: Looking to try SUP or simply learn more about the latest trends and technical products? Visit the Battle of the Paddle SUP Expo. Meet the world's best board, paddle and SUP equipment manufacturers to learn about their latest designs and innovations. There will be a rainbow of boards and paddles to demo at the event site. Na Kama Kai will also be on hand to conduct free Hawaiian ocean skills and education clinics for kids. They will also be organizing keiki (children's) SUP races for all ages and abilities of children.
SWAG: Everyone who enters the Battle of the Paddle Hawaii will receive a pair of commemorative Battle of the Paddle Rainbow Sandals, event tee, lunch and cool event swag. A special welcoming party and aloha concert for competitors will be hosted by Quiksilver Waterman Collection on Friday evening, May 13, featuring local musicians. Event proceeds will directly benefit the Hawaiian Community.
Whether you're racing for the prize or just want to get your feet in the waters of SUP for the first time, the Rainbow Sandals Gerry Lopez Battle of the Paddle Hawaii is the perfect way to experience the rich tradition of Hawaii's original surf lifestyle. The event is dedicated to supporting Hawaii's youth and the local community with a portion of proceeds from the event going to Na Kama Kai.
The Rainbow Sandals Gerry Lopez Battle of the Paddle is proud to receive the support of the Hawaii Tourism Authority this year, and the support of our sponsors: Quiksilver Waterman Collection, Outrigger Hotels & Resorts, Surftech, Kona Brewing Co., Maui Jim, Duke's, Patagonia, and Na Kama Kai.
Much Aloha,
Jay "Sparky" Longley, Gerry Lopez, Pat Huber & Barrett Tester

Rainbow Sandals Gerry Lopez
Battle of the Paddle Hawaii
Presented by the Quiksilver Waterman Collection
DATE: May 14 & 15, 2011
TIME: 9:00 A.M. opening ceremonies
LOCATION: Duke Kahanamoku Beach, Ft. De Russy Beach Park, Hawaii
Online Registration: Click here
Related posts