March 25th, 2011 by davi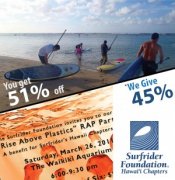 If you are interested in renting a SUP, please visit this Kanu Values link to get half off a 24 hr. SUP rental (just $24) and $5 of that will go to Surfrider Foundation "Rise above Plastic" campaign (offer expires in two days)
Link: http://www.kanuvalues.com/deal/get-half-off-on-stand-up-paddle-or-surfboard-rentals-and-help-surfrider-foundation-rise-above-plastics/


One of the consequences of the first law of thermodynamics is that energy cannot be created nor destroyed, only changed from one form to another.  Unfortunately, with few exceptions, this holds true for plastic as well and it is a big problem. Millions of birds die each year through plastic ingestion and in some parts of the pacific ocean (the ocean that Hawaii calls home) the amount of suspended plastic out numbers plankton 6 to 1.  Yes, plastics have revolutionized the way we manufacture and package goods, but now we need a revolution to stop the further damaging effects of plastic waste on the ocean and our bodies. One organization working hard to educate and take action to "rise above plastic" is the Surfrider Foundation. Locally they have chapters on each island, hosting beach clean-ups and other ocean awareness campaigns. This week you can support the Surfrider Foundation Hawaii Chapters by participating in the RAP Party at the Waikiki Aquarium (March 26th) and by purchasing this deal.
To support the Surfrider in their efforts and to get people on the ocean, Blue Planet Surf is offering Half Off on a Stand Up Paddle Rental or Surf Board Rental. If you have ever wanted to try these water sports this is your chance.  Not only do you get to experience the ocean from a unique perspective, but Stand Up Paddle is a great way to build core muscle strength and Surfing exercises your mind and soul as well. Waves or no waves, you can have a great day on the water with this deal.

About Blue Planet Surf:
Blue Planet Surf Gear got its start in 1993 on the island of Oahu. Founder Robert Stehlik was a business student at the time and created the brand and business plan as a college project at the University of Hawaii. The concept was simple: unique surfwear and equipment from Hawaii- for surfers, by surfers.
The name was inspired by the view from an airplane window returning to Hawaii from the mainland. We live on a Blue Planet, more than two thirds of earth is covered by water. The oceans absorb significantly more carbon dioxide than all the forests in the world combined. Many countries are protective of their land based resources but the oceans are too often abused and seen as an endless reservoir of fish and a boundless receptacle of pollution.
As surfers, the ocean is our playground and we need to act as its shepherds. As a business, we do our best to use environmentally responsible materials, conserve energy, recycle and try to minimize the impact on the environment and the oceans. We encourage our customers to do the same.
Blue Planet – Ward
540 Ward Ave.
Honolulu, Hi 96814
Tel. 808 596 7755


Blue Planet – Kapahulu
813 Kapahulu Ave.
Honolulu, Hi 96816
Tel. 808 922 5444
Related posts