July 7th, 2011 by davi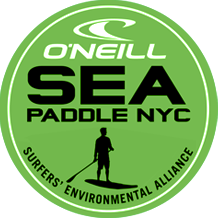 Surfers' Environmental Alliance (SEA) will rally the surf industry and autism advocates in support of the O'Neill SEA Paddle NYC. Happening Friday, August 12 in Manhattan, with the support of sponsors O'Neill and WaveJet Propulsion, the paddle will bring an unprecedented number of athletes from around the world to New York City to make a stand against autism.

Starting at 9:00 a.m. at Pier 40, paddlers will begin their 26.5-mile journey around Manhattan. SEA's Elite Racers will follow close behind, taking to the water at 10:00 a.m.
The O'Neill SEA Paddle NYC aims to raise more than $500,000 for SEA's charity beneficiaries which include Surfers Healing, Autism Family Services of New Jersey, Autism New Jersey, Hawaii Autism Foundation, Best Day Foundation, Virginia Autism Project, and Parents of Autistic Children, and Surfers' Environmental Alliance.
Related posts