August 28th, 2011 by davi

SUP Event in Hood River!! By Connor Baxter
The first ever 2011 Gorge Challenge was a great, fun event. There were three different races – the Elite course race, the long distance, and the most fun part – the team relay.
The event took place in Hood River Oregon, which is one of my favorite places to go, because there is so much to do. Before the race I got to windsurf, kayak, as well as go down the rapids on a SUP board.

The first day of the event was the Elite race, which was about six miles through a tricky course. We were all on 14-foot boards and went though a course with six turns in it, which made it difficult. We had to go around this course 4 laps. Being on a 14-foot was faster than the normal 12.5-foot, but turning it around the buoy through a tight course with four other people next to you definitely made it interesting.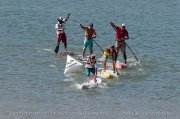 We all started in the water and I thought it would be smart if I started in shallower water, but this line was above the buoy, whereas everyone else wanted to get a straight line to the buoy.
So, when I started I was in shallower water then everyone else and also had less people by me, because everyone started below me. When the horn blew I got a good push off onto my board and everyone else had to jump on to their board and then paddle. I lead to the first buoy and for the rest of the race.
Here is a you tube link of the start from our friend Rod Parmenter: http://www.youtube.com/watch?v=xFLAjMC1i3w
The whole race I got drafted by everyone and I was the only one that didn't draft. Going to the second buoy I tried to turn as tight as I could and my paddle got stuck in the lines of the buoy and I almost fell in, but I saved it and fell on my butt and kept paddling. I also kept the lead.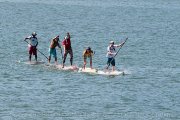 It was light winds and it was about 98 degrees, so this was by far the hottest race I have ever competed in. I had a hydration pack, but I never stopped paddling, so I couldn't take a sip to save my life.
It was four laps and I lead the way, but I couldn't get a good gap on everyone cause they were all drafting me. I ended up coming in first place overall in the men's elite. I was super happy with my performance, especially because this was my first pure flat water race.
That day they had the awards and I ended up going home with $2500. When I went home – well to a friend's home – I ate a giant dinner and fell asleep right away dreaming about the next day.
When the next day came around I ate breakfast and headed up to Viento State Park for the downwinder. The course was an 8-mile downwinder to Waterfront Park. The race started at 12:00 and the wind was up for a good downwinder.
After the start I was about the third person to round the first buoy and once I rounded it, I paddled as hard as I could. I passed the two people in font of me and kept it going and didn't let one person pass me. It was a really good downwinder, because the wind blows one way and the current goes the other way, which causes the swell to get big. This makes it really fun with long glides. It is funny though; it feels like you are moving fast, but when you look at the shore you are barely moving.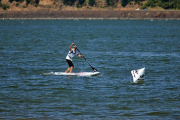 I came in first overall. So I was super happy to clean up and get first in both events over the weekend.
But I can't forget the relay race, for this race all the open class racers made teams of three people and then they picked one elite paddler from a hat. So this was just for fun and good memories.
At the awards that day, I ended up with a couple extra awards. The Waterman's Award for overall, and The Sportsmanship Award. At the end of the weekend I got to go home with a total purse of $4,000.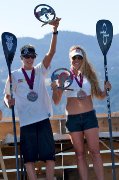 A big Mahalo to all my friends at the Gorge that really helped me out – especially Bill, Daryl, Nikki, Dan, Steve!!!
And, I want to thank my sponsors for all their support – Starboard, Rainbow Sandals, Maui Jim Sunglasses, EFX Technology, Dakine, Nike 6.0, GoPro Cameras, On It Pro, Waterman's Sunscreen, Sunrite Maui and Hi-Tech Sports.
Also a big Mahalo to all the event organizers and volunteers.
Aloha -
Connor Baxter
Here are some links to photos of the event on facebook:
http://www.facebook.com/PaddleChallenge#!/media/set/?set=a.253266451362319.66535.185289344826697
http://www.facebook.com/PaddleChallenge#!/media/set/?set=a.253715564650741.66628.185289344826697
http://www.facebook.com/PaddleChallenge#!/media/set/?set=a.10150269717935893.327777.159056065892
http://www.facebook.com/PaddleChallenge#!/media/set/?set=a.596507956404.2084206.29300455
http://www.facebook.com/reinhard.jennifer#!/media/set/?set=a.596308885344.2084111.29300455
Related posts