August 30th, 2011 by davi
"Duke's OceanFest – Waikiki" By Connor Baxter

The Duke's OceanFest is held each summer at the end of August. It's a week long celebration in honor of Duke Kahanamoku, who is the definition of The Aloha Spirit.
It's one of the events that I have not missed since I started Stand Up Paddling! It's a fun event with loads of people, good food and just an all around good beach day with family and friends.

The contest started on Wednesday August 21st, but my first event was held on Friday. This started with the Surf Race event on 12′6″ boards – but was run a little different from the other races I have done.
It was run in heats, where 6 people went out and the top three made it to the next round. I managed to get two 1st places in the first two heats and made it to the finals.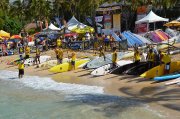 So, when it came to the finals I knew what I had to do and that was come in first. When the horn blew I hit the water and got up to my feet quick. I paddled my hardest and got to the first buoy in second place. After rounding, on the way in, three of us caught the same wave into the next buoy. I was on the inside, so I rounded it and got out of there first. Going to the last buoy I was still in front, but once we all rounded the buoy, again we all caught another wave together. Coming in with the other guys I knew I had to get a little gap on them, otherwise we would all be hitting the beach at the same time and that wouldn't be pretty. So when we got closer to the beach, I paddled as hard as I could and was able to get over a little bump in front of us. I was the first to hit the beach and came in first place.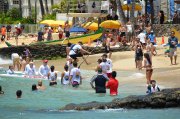 It was super fun event – and now the top 24 of us were qualified for the Surfing event – which was held right after.
Paddling out for my first heat, the waves were pretty small. but still looked fun. I ended up making my first heat and went on to the next heat. The next heat was super inconsistent, so I knew I had to be more aggressive. I caught one good wave, but I needed on more. With only a little more time to go a set came in. I caught it and rode it all the way into the beach. So once again, I made my heat to the semi finals, which for me was super good. The next heat was EVEN smaller and I think only five waves came in. I managed to catch one but the clock ran out and I didn't make that heat. But I was super happy with my results.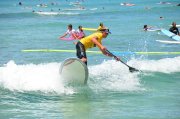 That night I feel asleep super fast and slept like a rock.
The next day was the long distance race from Hawaii Kai to Waikiki. There was not much wind, but it still looked fun. When the race started I was a little bit behind, but once we hit the wind line I started to catch back up. For about half of the race three of us were pretty even. I knew I had to make a move to get in front. So, I paddled super hard and starting to make a gap on them. When I got to Diamond Head, Aaron Napoleon was just behind me. The last 2 miles was into the wind, which was super difficult. I ended up paddling as hard as I could and came in first to the beach. This was a super fun event and I can't wait till next year.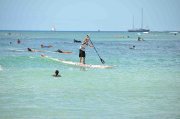 I want to thank my sponsors for all their support – Starboard, Rainbow Sandals, Maui Jim Sunglasses, EFX Technology, Dakine, Nike 6.0, GoPro Cameras, On It Pro, Waterman's Sunscreen, Sunrite Maui, SIC and Hi-Tech Sports.
Also a big Mahalo to all the event organizers and volunteers. Fantastic Event!!
Aloha -
Connor Baxter
Photos: Courtesy of Evan Leong
Related posts