October 3rd, 2011 by davi

Monday 3 October
Antoine Delpero from France comes out victorious
After 3 spectacular days of competition, that saw a fiercely contested Trials event that went straight into and even more intense Main event, France's Antoine Delpero managed to find his best form of the contest so far in the all important Final heat.

Despite being faced with the familar faces of World Champion Kai Lenny, Leco Salazar from Brazil and local wildcard Colin McPhilips from San Clemente California, Antoine dug deep to deliver an outstanding performance here at Stop 4 of the Stand Up World Tour: the Huntington Beach Pro presented by Starboard.
This has strengthened his position on the 2011 World Tour Rankings, now just a few points behind Kai Lenny. The Title Race is well and truly on!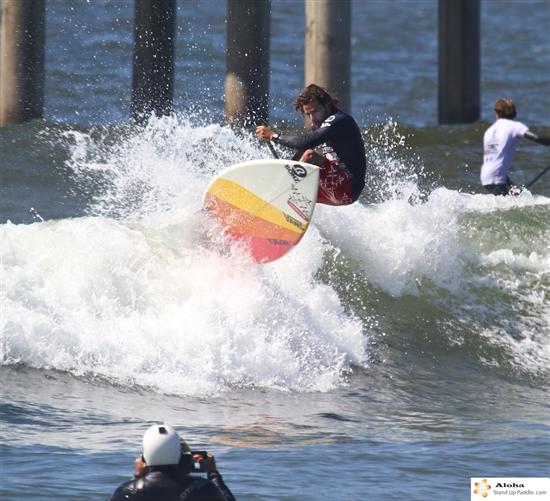 Colin McPhilips proved his worth at home in California
Colin McPhilips showed that his 2nd place in France last year was not a flash in the pan, and that he was not 3 x longboard world champion for nothing, surfing smoothly and consistently all the way to the Finals. In the Final heat, he reamined relatively quiet, but found the two waves he needed to secure his 2nd position and make his presence felt on Tour. We look forward to seeing Colin at more events.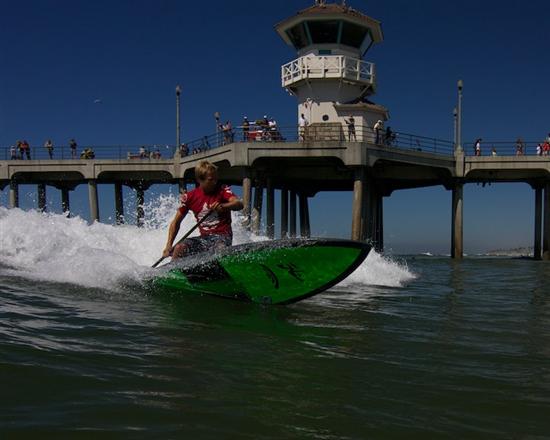 Leco Salazar stands out once again putting him right in contention
Brazil's Leco Salazar once again put on a magnificent performance, just 0.4 behind Colin McPhilips in the FInal to finish in 3rd place. Leco's smooth and effortless assault of the Huntington Beach lineup had the Brazilians and locals alike in awe.
With their worst results now discarded (1 discard for 4 events, 2 for 6), Leco has now jumped into second place in the Stand Up World Tour rankings, just 0.7 ahead of Antoine and not far behind Kai. There is now a France / Brazil / Hawaii race that is intensifying and the talent is through the roof.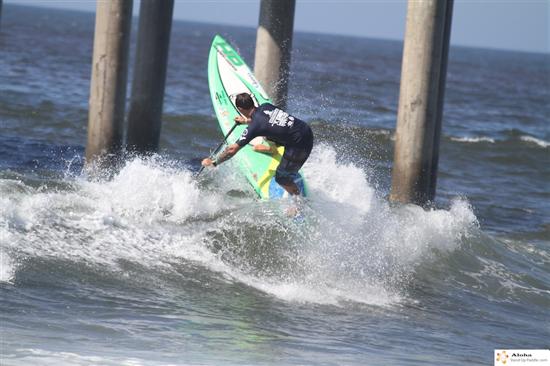 The World Champion stands strong in fourth place
Despite not winning the event, Kai Lenny is still standing strong in the ratings, finishing in 4th place here at Huntington. With a phenomenal display of performance riding, Kai once again demonstrated why his is World Champion and that he is certainly looking to secure his 2nd consecutive World Championship Title.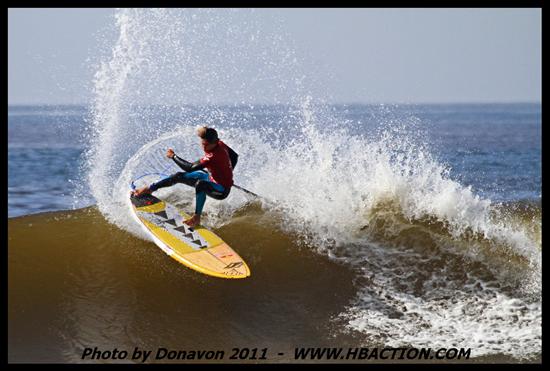 The waves bring out the best in the athletes at HB
Other standouts at this event were local boy, Daniel Hughes, who showed that his progressive style of riding and local knowledge could get him a long way: all the way to the semi finals to finish in 7th place. Considering the exceptional talent attending, this is an impressive performance.
Also never failing to impress is Aaron Napoleon, who is one of the older athletes on Tour, but his 5th place finish here moves him up into 5th place in the overall rankings with his worst result discarded.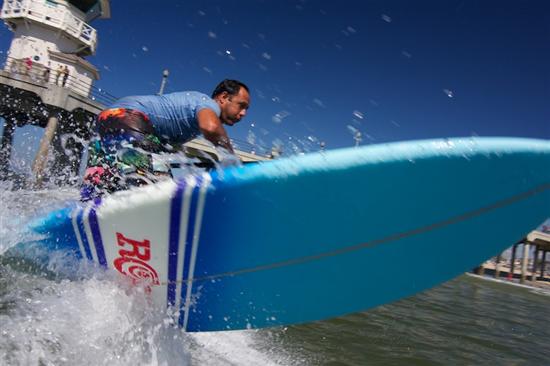 The Starboard team make their presence felt here at HB
Led by the ever colorful Zane Schweitzer, the Starboard team certainly made their presence felt here at Huntington Beach, with both Zane and Sean Poynter making it through to the Semi Finals, with Zane finishing in a very resepctful 5th place, narrowly missing out on his place in the finals, despite a radical display of progressive maneuvers. Sean surfed great, but failed to get the waves he needed to progress into the Finals.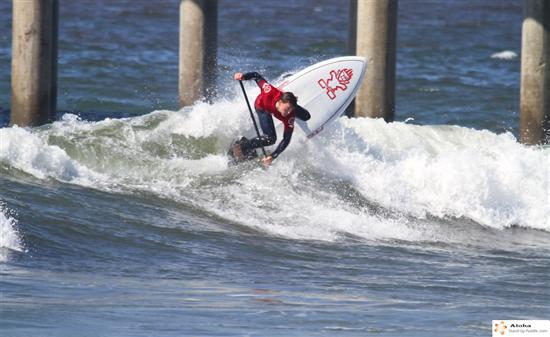 The Na Kama Kai Youth Challenge is once again a hit
The Na Kama Kai Youth event was once again spectacular, as the level of surfing amongst the kids continues to just go through the roof. Standing out at this edition, was Mo Freitas from Hawaii, who failed to advance in the Trials by the smallest of margins, but showcased why he is one of the strongest hopes for the future, with an impressive display of surfing that allowed him to win the Na Kama Kai Youth Challenge.
Behind him was a very worthy Bernd Roedigger from Maui, who narrowly missed out on the win, but finished in second place behind Mo. In 3rd was Tucker Ingalls from Santa Barbara who was surfing great and in 4th,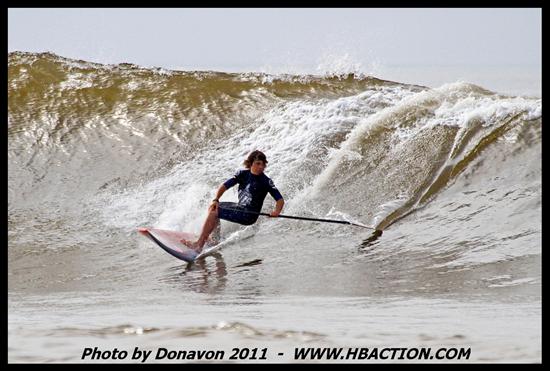 The People's Choice Super Session captivates the audience
Launched for the first time right here at Huntington Beach, the People's Choice Super Session is a new format introduced for the Stand Up World Tour that allows the audience to not only vote who should be in the session, but also vote their winner through the groundbreaking technology that has been developed.
The five chosen athletes were: Zane Schweitzer from Maui, Hector Gonzalez from Mexico, Kelson Kihe from Maui, Iain McFarland from Florida and Alexandre Magrinho from Brazil. After an impressive 20 minutes of action, despite surges from all athletes involved, it was Zane Schweitzer who came out on top at the first ever People's Choice Super Session, winning a round trip ticket on AIr Tahiti Nui.
In the future these will be run in conjunction with live broadcasts, so watch out for this continuously evolving component of Stand Up World Tour action.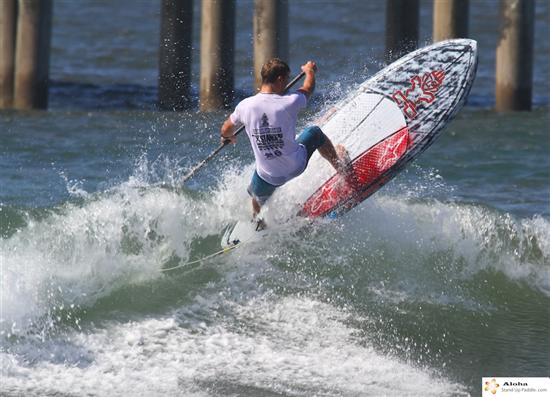 Current Rankings on the 2011 Stand Up World Tour
After event number 4, the rankings have shifted around a bit with one discard now awarded. The Top 10 are as follows:
Kai Lenny (HI)
Leco Salazar (BRA)
Antoine Delpero (FR)
Peyo Lizarazu (FR)
Robin Johnston (HI)
Aaron Napoleon (HI)
Zane Schweitzer (HI)
Xabi Lafitte (FR)
Kody Kerbox (HI)
Sean Poynter (US)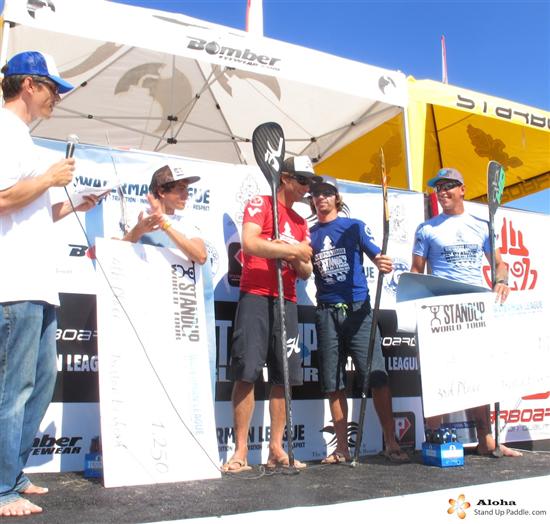 A big thank you to our sponsors and the City of HB
A big thank you goes out to our sponsors and the City of Huntington Beach for making this event a reality and making our first successful footprint on mainland US soil, right here at Surf City USA.
Thank you to Starboard, our host hotel the Hilton Waterfront Resort, VersaTraction, Puka Patch, Bomber Eyewear, Sandy's Restaurant and Primo Beet. Thank you also to Tommy Bahama's for welcoming the Stand Up World Tour crew to Orange County. And a final thank you goes out to our Official Airline, Air Tahiti Nui, as well as our Gold Patrons: Naish, Imagine, Rogue and our regular patrons: Starboard and Imagine.
Next stop Brazil, from the 22nd – 30th October: stay tuned to www.standupworldtour.com for the latest news, information, detailed results and highlights from the Stand Up World Tour. Aloha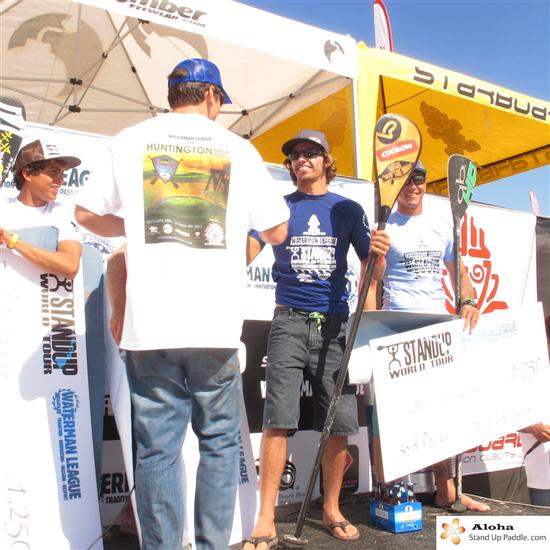 Related posts