October 4th, 2011 by davi

Appleby paddles her signature race board to five straight victories
Jamie Mitchell headlines epic Mens Elite BOP clash
Santa Cruz, CA (October 4, 2011) – Surftech team rider Candice Appleby of San Clemente put an exclamation mark on a historical SUP race season by sweeping the Battle of the Paddle Womens Elite Race and the Distance Race September 24th & 25th.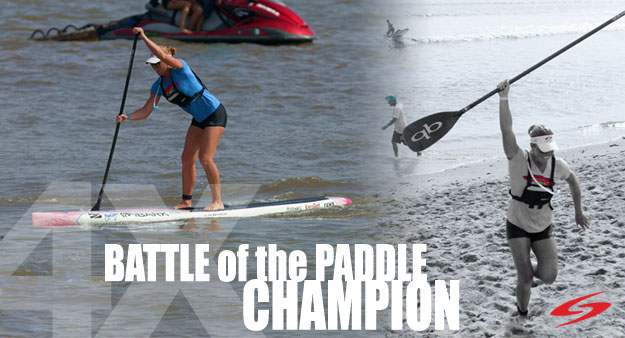 Being the "woman to beat" going into the event, Appleby stayed with the routine that has led her to countless stand up paddle race wins this season. "I didn't change my routine at all for the Battle" she said. "I've been pretty successful all season. My training has gone well and my boards and paddles are amazingly fast! I didn't want to change a thing for that race."
Indeed Candice's signature 12′6″ Bark production board has proven to be the fastest board of the season for her. "It amazes me how fast my new production board is. I had three custom Barks to choose from for the Battle of the Paddle, including the one that I won BOP Hawaii on. I went with my production board because it just feels faster" admitted Candice.

In fact, on her new 12′6″ signature Bark, Candice has racked up wins at the US Open of SUP, the Hennessey US Paddleboard Championships, the Surf Race to Victory, the Battle of the Paddle California and at last weekend's SUP Splash in Chattanooga, TN. Not a bad way to launch her new race model, which will be available in SUP shops next spring.
Meanwhile Surftech's Jamie Mitchell finished off his record breaking year with a strong second place finish in the Mens Elite race and a third place finish in the Mens Distance Race. "I felt good going into the Battle of the Paddle. I knew my result in the Hennessy (Mitchell finished 1st ahead of Danny Ching) wasn't going to factor into how the BOP would end up. They are two completely different types of races… but it did give me some confidence going into the BOP."
Along with Candice, Jamie will also be launching his new signature race boards, designed by Adrian Birse, in the spring: "My new race board is epic! It's more stable, has better glide and surfs and turns better than my last model. I'm really stoked that Adrian and I were able to design a great all-around board that works in every type of condition" said Mitchell. "After the Hennessy and the Battle of the Paddle I think everyone got to see how well it works."
Congratulations to Candice, Jamie and all of the Surftech team riders who challenge themselves in SUP races throughout the globe race after race!
More info contact: Duke Brouwer duke@surftech.com
Related posts