January 30th, 2012 by evan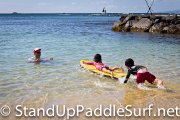 I recently picked up the new C4 Waterman iBlowfish shortboard inflatable surfboard. The board is 5′11″ and has a fixed set of twin fins on the bottom. The purpose for me was to have something that my kids can use and beat up a bit without it falling apart. This turned out to be the perfect solution.

The board fits easily into the trunk area of my van. That's the first plus. It's more than stiff enough and Greg and Paul at C4 pumped it up for me with their air compressor and I just leave it inflated. First one to test it out was my 6 year old son. He used an adjustable paddle that I cut down in length and got right up and started paddling.
My 6 year old stand up paddling the C4 iSup Blowfish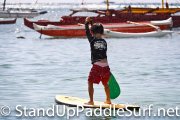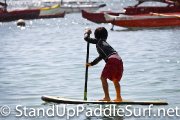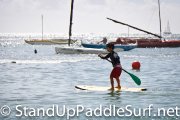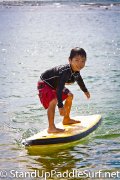 After my 6 year old did so well on the C4 Blowfish, my 9 year old wanted to try it so I made him surf it outside in the break. He was pretty hesitant but we ended up having a great time. I swam out with swim fins and helped him when he needed it. He only cried once so it was a good session. Not sure why he always cries for but after we're done he always tells him mom that he had the best time and can't wait to go again. Go figure. Here's us paddling back in. I was surprised at how fast my son could paddle the C4 Blowfish. He normally uses an 8′4″ longboard with a flat rocker line and he paddles that pretty fast but he was paddling the Blowfish even faster than he can with the 8′4″.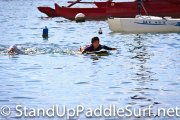 My 6 year old son made a friend on the beach while we were surfing and she wanted to try out the Blowfish so we did that for a little bit. She had a blast and this was the most fun so far on her vacation from Canada.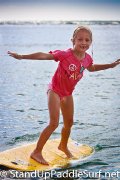 Last, my 2 year old daughter wanted in on the action. She was a bit scared at first but we had a hard time getting her out of the water once she got started.
Me with my daughter Kyndra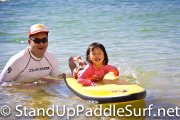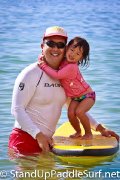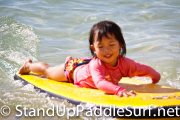 I think this board is the ultimate kid friendly board. They can lie down paddle it, stand up paddle it and play around with one or two of them at the same time. They can surf it, throw it around and bang the rails with a paddle and it shows no damage. They can run the board up the sand in the shorebreak without worrying about the fins popping out or the fin boxes ripping off. The kids can carry it to and from the beach and so far we haven't had to wax it. Maybe it'll get more slippery but my 9 year old just surfed it at Baby Queens and he had no issue with slipping. At least 3 other dads on the beach came over to check out the Blowfish and I know that one of them went in the next day and bought one. The fixed fin version was on special for under $200 which made it a steal of a deal.
My boys also took it to the swimming pool to play around with. Worked good there too.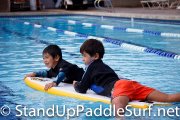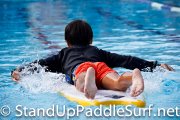 Here's more info on the iBlowfish from C4 Waterman:
Description

Wanna get air? Well, now it's easy, even if you aren't a super-hot pro surfer. C4 Waterman's new inflatable Fish design gets 'full on air' in minutes, and you are out in the surf in a flash. At 5′11″ X 21″ X 3″, this Dave Parmenter-designed Fish rolls up and fits in a backpack. It's the ultimate travel board———-even the missus won't know you have it with you on your holiday. You can take it anywhere: pack on a bicycle, stuff it into a canoe or kayak, even take it on board as carry-on luggage on a commercial airliner!
The Blowfish classic Fish planshape is wide enough to handle surfers up to 200 lbs, but is still narrow and compact enough to make it the perfect board for kids in the shore break. Experienced surfers will love the speed and twangy flex of the Blowfish, while parents will love the safety of the pliant skin, flexible rubber fins, and the absence of edges and points on the board. And the Blowfish is comfortable to paddle on—–no hard deck to hurt the ribs——–and this short, wide inflatable surfboard paddles quick and nimble on its cushion of air; the Blowfish actually leaps into waves compared to a hard fiberglass surfboard of the same size and volume!
The C4 Waterman Blowfish—–the Lightest, Safest, Cheapest way to get air!

Features

Heavy-Duty PVC Vinyl
High Thread Count for Extra Strength
Inflates to 15-17 psi
Safe Round Rails
Unbreakable Fins
D-Ring for Leash
Comes with pump & bag

Technical Specs

5′ 11″ x 21″ x 3″
Weight: 8.6 lbs
High Thread Count PVC Vinyl
Inflate to 15-17 psi

Size Guide

5′ 11″
For beginners up to 100 lbs and advanced riders up to 180 lbs
More pictures:
Related posts