October 27th, 2012 by evan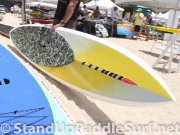 Here again is S.I.C.'s Mark Raaphorst with a fixed fin variant of the Bullet 14′ SUP race board. This is for the guys who want to race in fixed fin SUP divisions. The board is also a few hundred dollars less than the Bullet 14′ with the full steering system.
This is a great board for downwind runs where the troughs are tight and the rider doesn't need a rudder. It's a little lighter in weight due to the steering system not being there.
Mark tells us more in the video below:


(click thumbnail to launch video)
Related posts