June 1st, 2014 by robert
At Blue Planet, we were not satisfied with the carry handles on the market and decided to develop our own carry handle. After developing several prototypes and going through the design, testing and molding process, the result is the new, patent pending SUP Grip. This handle makes carrying Stand Up Paddle boards easier and more comfortable than ever.
All 2014 Blue Planet boards come standard with this great new handle. We are now also making the SUP Grip handle available for retrofit installation. We welcome inquires from manufacturers and builders.
For details or to order it through our website, please visit:
http://blueplanetsurf.com/products/sup-grip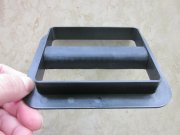 The high strength injection molded nylon SUP Grip handle was designed specifically for Stand Up Paddle boards.
SUP GRIP allows for easy, quickly accessible, secure and comfortable handling and carrying.
No moving parts means nothing can get stuck or malfunction, unaffected by sand and salt.
SUP Grip makes it easy to grab your board quickly and securely, which is important for racing and in the shore break.
Molded rubber grip surface is comfortable and grippy even when wet.
Easy installation process, mounts flush, glassed over for extra strength.
Wrap a locking cable through it for secure storage.
Once you try SUP Grip you will never want to use a finger-hold handle again!
The handle is now available exclusively from Blue Planet to install into new custom boards or to retrofit SUP's. We offer installation service at Blue Planet Surf Shop and all 2014 Blue Planet SUP's come standard with this handle.
Patent Pending.
Available now at:
Blue Planet Surf
Hawaii's SUP HQ
540 Ward Ave.
Tel 808 596 7755
open daily 10-6
This video shows the features of the new SUP Grip handle:


(click thumbnail to launch video)
Related posts