November 9th, 2014 by davi
By: Allie Brown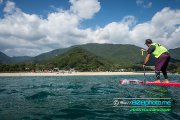 The racing scene in Japan seems to have grown tremendously this year. There are races literally every weekend between the month of May thru October.

So lucky for me, straight off my California/Hawaii trip for the Battle of the Paddle and Molokai Hoe, I was headed off to a Kumano, Mie Prefecture for the "Kumano SUP Marathon".
Kumano is a World Heritage Site, famous for the "Kumano-Kodo" (Kumano Trail) which was a series of ancient pilgrimage routes that spread across the Kii Hanto, the largest peninsula in Japan. The landscape here is beautiful in the sense that there are steep sea cliffs as well as lush forests. The only setback is it is an 8 hour drive from the city of Tokyo.
The "Kumano SUP Marathon" is rare in a sense that its main sponsor are not companies, but the city of Kumano. The whole city and the people were out to volunteer and help out on race day. With funding from the city, the race had invited former Molokai 2 Oahu Champion Travis Grant to race in the event.
On race day, I was surprised to see the amount of people at the venue. More than 160 paddlers showed up to paddle along the beautiful coastline of Kumano. The course was 15 km (approximately 10 miles) which is a little longer than the usual race in Japan. The conditions were upwind going to the turn buoy and downwind on the way back. The ocean was moving which made it fun for the top paddlers but challenging for most.
As for myself, I placed 2nd place behind Travis which I was pretty happy about. I know there is a lot for me to work on and improve but I feel like with more experience racing against top conditions, it will come with time. SIC X12 Pro was on the podium in 1st and 3rd in the womens class. It proved that the boards work great in any conditions! It was also great to see all the participants finishing with a smile on their face thru the gruelling conditions. Hats off to the organisers and safety crew for keeping everyone safe.
After the race, we were treated with traditional Japanese food which was served by none other than Kumano locals. It was also great to talk story with paddlers from the Western Japan.
Talking to the organisers after the race, the city was very happy with the turnout at the event and is looking to increase the prize money and encourage paddlers from around the world. If you are looking to paddle in Asia, make sure you keep this one on your map!
Related posts