January 4th, 2015 by davi
By: Allie Brown
Sonni Honscheid just had an awesome write-up about her featured on SUP Examiner. Check it out!
Here are some highlights of the feature:

"Long before her 2014 victory in the prestigious annual Molokai to Oahu stand up paddleboard race, the 31-year-old athlete began her water sports career in competitive surfing where Sonni holds the distinction of being a 12x German Surfing Champion."
"In a manner similar to her contemporaries around the globe, Sonni enjoys the freedom that comes with stand up paddling. There is perhaps no other discipline that can be shaped and molded to make the most of one's surroundings while offering the opportunity to specialize in certain conditions. When it comes to racing, Sonni's prefers the challenge of a good downwinder or extreme conditions with a lot of wind and waves."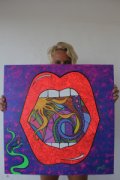 Photo: Janni Hönscheid
"In contrast to many top athletes, the SIC Maui team rider's accomplishments do not stop at the water's edge. Sonni is an incredibly talented and inspiring artist who can be regularly seen sporting her own designs via her apparel line with Chiemsee. "I have liked to paint since I was a kid."
"It was perhaps no coincidence she chose SIC Maui as her board sponsor and cites the Paddle IMUA/Bluesmiths race on Maui as one of her favorite events alongside Molokai to Oahu and the Stand Up World Series-Turtle Bay on neighboring Oahu."
To read the full feature, click here.
Related posts