May 9th, 2016 by evan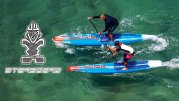 Welcome to another episode of Board Meeting. In this episode, Robert and I will discuss his recent visit to Maui for the Starboard distributor meeting.

According to Robert, Starboard has some cool new innovations for their 2017 lineup. Distributors are not allowed to talk about them yet until Starboard releases their new lineup to the market, which will be around November or December. I guess we'll have to wait until then.
We also talk a bit about the Blue Planet product distribution in Australia and Australia in general.


(click thumbnail to launch video)
This show is presented by Evan from StandUpPaddleSurf.net and Robert from Blue Planet Surf Hawaii.
Related posts