June 11th, 2008 by edgardo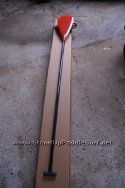 Dave Chun of Kialoa Paddles answers questions about paddling technique, paddle design and performance, his all-new Shaka Pu'u paddle, and general concerns about the stand up paddle surf culture. Dave also talks about choosing the right paddle, which all boils down to intuition that tells what type of paddle is best for the stand up paddle surfer.
We get to learn more about paddles and why design and performance are always relative to individual surfers.
In the first of this three-part interview, Dave takes us through the process of building paddles and how they test the durability and strength of their products. He also compares the Shaka Pu'u to the Nalu.
Continue reading 'Kialoa Shaka Puu Stand Up Paddle (Part 1)'