October 14th, 2008 by admin
by Standup Paddle Magazine
October 12, 2008
Dana Point, California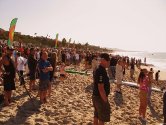 The biggest Stand Up Paddle race to date got rave reviews from both the competitors and spectators as Rainbow Sandals put on a first class event at Doheny State Beach in Dana Point this past weekend.

With $25,000.00 up for grabs, racers from California, Hawaii, Washington State and Tahiti went head to head in both the Open and Elite classes with over 350 entrants braving the brisk 15 knot northwest on-shore winds in the biggest paddle battle ever.
With legendary Gerry Lopez on hand to officially start the race, the 3000 curious onlookers also got a chance to roam through the SUP exhibitors area and see what'sup, what's in and what's happening throughout the industry.
Paddle makers Kialoa, Werner, Quick Blade along with the industries board makers C4, Ron House, Jimmy Lewis, Hobie, Infinity, Joe Bark, Star Boards, Oxbow, Surf Tech, Paddle Surf Hawaii, Trident and Wet Feet were on hand with Kaenon, H2O Audio, Maui Jims showing up for head control. Altogether there were some 40 plus industry part takers.
As for the race, the grueling winds made for "tough muscle" conditions and it was evident, those with the right equipment had a better shot at winning.
The wahine from Hawaii showed dominance as Kailua-Kona's Jenny Kalmbach took top placing in the Women Elite followed by Waikiki's Candice Appleby, Honolulu's Morgan Holstery, Tiare Lawrence from Maui and Jennifer Koki from Honolulu.
While Kalmbach who paddles out of the Kailua-Kona area took home $2500.00, Hobie's Chuck Patterson from Dana Point scored the first place check of 10k followed by Hawaiian paddlers Thibert Lussia out of Kailua-Kona and Pearl City resident Aaron Napoleon.
Both Lussia and Napoleon were a distant runner-up to Patterson by 200 yards.
As this was a pivotal event in the world of SUP racing, a huge congratulation's goes out to Rainbow Sandal's Sparky Longley, Gerry Lopez, Barret Testor as well as board builder Ron House for putting together a first class event for both the spectators and the competitors.
And a big mahalo as the event benefitted the Surfing Heritage Foundation and Doheny State Beach Interpretive Association.
Related posts