October 3rd, 2008 by admin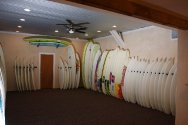 Aloha Everyone,
I am proud to announce the opening of my new Kazuma Surfboards Factory outlet. I built this store for my customers, to offer them the best selection, service and a factory direct price. With over 150 boards in stock, I will have something for everyone. We also offer custom orders built to your specification in less than 2 weeks.

At the factory store, you will find our new Milkman SUP model available for sale, rent or testride. You will find also a huge selection of top quality used surfboards from our Hawaii surf team.
The store is located at our glassing factory, 375 west Kuiaha Road, unit 62, Haiku, Maui.
Come in and watch our expert glassing staff work on your board through the viewing windows.
We are open Monday through Friday, 9am-1pm and Saturday 9am-2pm.
Call us anytime at (808) 575 7510. Visit our website at www.kazumasurf.com

Here is my latest StandUp creation. 10′0″ x 28.5′ x 4.18″. We have over 5 years of SUP building experience so we are on the cutting edge of high performance sup design. I am proud to offer my latest and greatest SUP design available to be custom ordered online. It is a supersized Milkman SUP. I pulled out all the stops on this one. Ultra high performance ride in a stable, easy to paddle size. The pulled in nose really helps the late drops and adds tons of response off the bottom. I added extra nose rocker to eliminate the nose sticking you get on re-entries and floaters. Of course this board has my special Triple Barrel concaves for that shortboard feel. Don't let the sleek outline fool you, this board is 129 liters in volume so it will paddle amazing. Specs: 5.75″ nose rocker/ 4.25″ tail rocker for quick responsive turning. 16.875″ nose width/ 17″ tail width. The blank is 2.0lb white hot eps foam which has the tightest beads for little to no water absorption if dinged. I have all my eps blanks glued up with 1/4′ stringers for a very natural surfboard feel. The vibration dampening effect is very much appreciated in choppy surf. Glassing is 20 oz deck/ 10 oz bottom and 30 oz on the rails so no rail strike dings. Epoxy lamination with a 100% epoxy gloss coat. We are starting to do a fine sanded gloss coat instead of a full polish, it seems to show scratches less than the polished finish. No chipping resin from paddle strikes. These boards are built to last, we spare no expense to give you the best quality we can.
Matt Kazuma Kinoshita
Related posts