February 27th, 2009 by clarise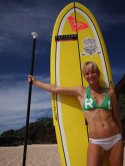 You have probably read about her in Stand Up Journal, or perhaps in a windsurfing magazine. Or seen her in a ROXY campaign. The all-time water-woman/Dutch Champion/PWA competitor Anne Marie Reichman is now part of Starboard SUP Dream Team.

Her passion for the sport is unquestionable, which reflects in her confident and talented style on the water.
"I got in contact with SUP about 1.5 years ago. I saw the sport grow on Maui and got curious. The challenge it gave me (it looked much easier) was instant addiction. The sport literally balances you, and the diversity of its nature is great. Taking waves, cruising flat water- in nature and cities- (going for a walk on water) and doing down winders with oceans swells to ride is purely a blast! I can see a lot of people get into this sport; enjoy it; feeling challenged, balanced and healthy like I do. My latest board I got to ride is the 8′5″ x 28″ Tiki. The smaller size, lighter weight and width of the board (wider in the front for more balance, and smaller in the tale for more radical turns) seems to agree to me; being a smaller person. It is also a travel friendly board! Which comes in handy as I am on my way to Morocco to score some waves." - (Anne Marie Reichman)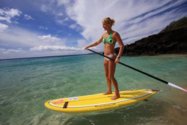 When Anne Marie is not out in the ocean, charging big waves she spends time practicing yoga and working on her new projects on how to 'live her dream'. Instead of only enjoying this lifestyle herself, she makes it her goal to share it with other people around the world during clinics, interviews, promotion activities and events.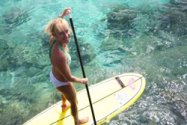 I want to show people how joy, health, fitness and spirituality can be a perfect combination. Making the link between how you feel after yoga and how you feel on the water, fact that you feel balanced/focused (you are out of your head) fit/healthy and 'alive' on the ocean is something a lot of people get stoked about. I'm so grateful to the life I'm living. It is a choice to have this lifestyle and I am happy that it gives me a chance to motivate and inspire other people to discover or follow their dreams and passions in life.-(Anne Marie Reichman)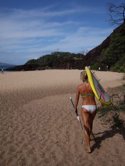 Starboard is very proud to welcome Anne Marie in to the Dream Team Family. As a brand we always challenge ourselves to improve not only our products but our team as well, having a rider like Anne Marie we will be able to successfully do both. Anne will work with us on some research and development in order to offer more to the lightweight riders.
-Margareta Engstrom
Starboard SUP
Media Manager

Related posts