December 9th, 2011 by evan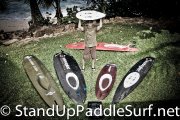 I recently met Mike Railey (CEO and inventor) of WaveJet and he showed me some of their prototype boards which uses the WaveJet Pod propulsion system. This is basically a small jet engine that attaches to the bottom of a water vehicle. Check out the video below where Mike explains the WaveJet Propulsion System in more detail. Also in the video are some clips of me and my friend Kekoa Mau test riding a couple of WaveJet SUP boards.


(click thumbnail to launch video)


(click thumbnail to launch video)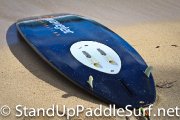 Bottom view of the WaveJet Pod installed on a board. This is the board that we tested. I think it was 10′6″, carbon and shaped by Steve Walden. It felt like it weighed around 30 something or 40 lbs.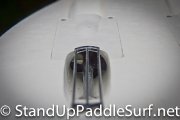 Close up shot of the jet inlet on the WaveJet Pod shows the impeller under the protective grate. Even with random leaves and junk in the water we didn't run into any issues with stuff getting stuck in the intake. The motor is pretty quiet although it does make a medium pitched buzzing sound. I used to ride a motorized surfboard with a gas outboard motor and that was loud.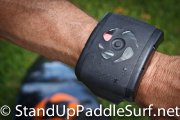 The WaveJet Wristband (controller) is pretty simple to use. Press the button and it goes on, press again and it goes off. It uses Seatooth technology so the connection to the engine can be made wirelessly through ocean water. If you fall off then the engine shuts off automatically.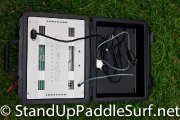 The WaveJet Charger plugs into a 110v wall outlet and to your pod. Not sure on the charge time.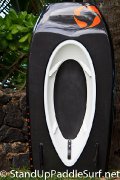 A prototype body board without the WaveJet Pod. This was a pretty cool looking body board and it was also very light weight. We didn't test this.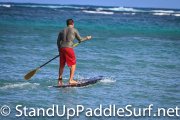 My friend Kekoa trying out a WaveJet SUP board. It's moving his 200 lbs around with relative ease. He agreed that this was really fun.
A few years ago my friend Kekoa and I started getting into powered watercraft. We had a series of wave runner jet skis that we bought, rode and sold. We had a Seadoo jet boat and even one of these motorized surfboards. The Surfjet was fun but it was 130 lbs and needed a dolly to transport from the car to storage or the ocean and the 2 stroke engine was a hassle to maintain. The Wavejet IMO is was better because we can still carry the board when needed, it's electric and doesn't need the engine maintenance of a gas motor. It's also smaller, lighter and more convenient. The Surfjet could go about 20 mph but I still prefer the Wavejet. I'd like to try it on a downwinder and in real waves.
More info at www.wavejet.com.
Related posts