July 31st, 2008 by admin
Hello Everyone,
Big thanks to Candice and friends, and everyone who participated in our demo day last Sunday. If you didn't get a chance to try out a particular board or wasn't able to make it, please contact us so we can set something up.

Melissa Chang of the Honolulu Advertiser was also present and did a little piece on her blog Urban Mix Plate. This is one of the photos she took that day.
NEW HAPPENINGS
The middle room is really starting to take shape, especially after getting the carpet laid this past Sunday. Although it's still a work in progress, the walls are stocked with SUPs and high performance surfboards.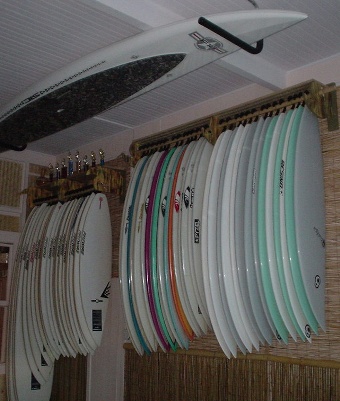 Candice seems to be establishing herself as a pretty adept SUP racer. Just a couple weeks after setting a new women's record at the 2008 Hui O He'e Nalu Independence Day Paddleboard Race, Candice took first place at the Hennessey's Int. Paddleboard Champs. Miss Appleby finished the 7-mile course from Turtle Bay to Waimea Bay in one hour, twenty seven minutes and sixteen seconds. Read more about the race at Surfersvilliage.
SUP Specials
EPS stand up paddle boards by Ron House that are 12′ x 30″ x 4 3/4″ and 11′ x 29″ x 4 3/8″

Favorable pricing…inquire for details.
New Store Additions
We just received the first two very hi-tech SUPs from a custom glassing shop in San Diego. These guys are incorporating their experience with aerospace and racing composites to a develop a glassing process that fuses epoxy resin to surfboard blank. This technology creates a board up to five times stronger, and 30% lighter than traditional glassing techniques.
We've asked them to build a line of Stand-Ups using this emerging technology. The first shapes were provided by Shane Rueber, with more to come from the likes of Pat Rawson and Kyle Bernhardt. Come have a look, they're awsome!

Here's a custom order for a customer that's going to ride some serious waves on Kauai this winter.
Featured Board
9′ 2″ 27 1/2″ 3 3/4″ "Rampage" model by Shane Rueber

This is the other board we received from San Diego. This elaborate design shows what they're capable of doing for custom orders in the future.
Until Next Time
Last night we got a chance to check out the Hawaii premiere of "Bustin' Down the Door." Shaun Tomson and Mark Richards were there to give some insight to both the good and bad. The movie starts playing at Dole Cannery theatres on Friday. I think it's only going to be airing there for a week, so we'd highly recommend checking it out while it's still on the big screen.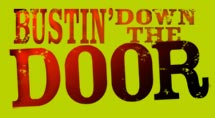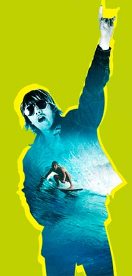 As always, feel free to email or call us with any further questions and or comments.
Aloha.
:::::::::::::::::::::::::::::::::::
Tropical Blends Surf Center
907 Queen St
Honolulu, HI 96814
Phone: 808.593.0211
eMail: info@tropicalblendsurf.com
Web: www.tropicalblendsurf.com
Related posts