November 9th, 2008 by admin
By Stuart Murray
Inoke Tuhukava and Stuart Murray will attempt what has never been tried before. To complete the 111km overnight ultra-marathon paddle down the Hawkesbury River on November 1-2 2008. Although this is an established paddle race called the Hawkesbury Canoe Classic this is the first time Stand Up Paddlers have applied to be a part of the race which raises funds for the Arrow Bone Marrow Transplant Foundation.

In the spirit of sportsmanship and aloha Stand-up paddle surfing combines the elements of two traditional Hawaiian ocean sports: canoe paddling's paddle, and longboarding's surfboard. Surfers paddle into waves and ride, always in the standing position. In a call to the roots of surfing Stand Up Paddle's Core Values are respecting the ocean and environment, a sense of community and the joy of sharing the ocean.
Training for the event has meant hours of training, refining equipment and hitting the fund raising trail which surprisingly has providing some of the most rewarding moments. Take the case of one 12 year sponsor boldly putting 50 cents up and declaring his confidence in me to complete the event. "That has sure fired me up and now I am looking for every extra edge I can find". Greatly appreciated is the support of Zhik, BTBsup.com.au, T&G cronulla and C4 Waterman.
The Classic has its share of pitfalls and challenges. Four degree temperatures, fog, patches of pitch black lighting will mean the Land Crew will have there work cut out for them as well. We can pray for favourable conditions come race day and know what ever transpires we will be called upon to deliver from our paddling hearts as well as our bodies.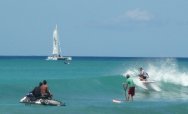 Stuart Murray competing in this years C4 Waterman Duke's Ocean Fest Stand Up Paddle Semi-final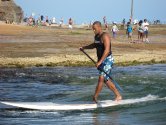 Inoke Tuhukava prepares for his river assault in classic Inoke style

Results
Stuart Murray, C4 Waterman 14 foot XP Vortice
17 Hours 16 Minutes 37 seconds
Inoke Tuhukava, C4 Waterman 12 foot Holo Holo
17 Hours 43 Minutes 52 seconds
We sincerely thank the race organizers, our fellow paddlers, our outstanding landcrew, all our charity sponsors and race spectators.
Stuart and Inoke sponsored by
Zhik
"the worlds fastest wet athlete"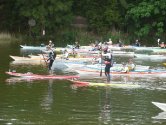 Inoke Tuhukava and Stuart Murray at the start of the Hawkesbury Classic 2008
Related posts