March 13th, 2009 by evan
A few months ago I got in a SUP surf session with Ekolu Kalama at Sunset Beach, North Shore, Hawaii. I got in touch with Ekolu on a Tuesday and he called me to say that he would be in Oahu getting ready for a humanitarian trip and sup movie they are filming in Honduras and El Salvador. He was going to be here from Thursday to Tuesday which coincided with a huge north swell that had come in with I think about 20′ face type waves with really good conditions, light winds and just pristine weather.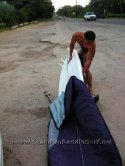 Ekolu taking his 9'0" Starboard Superfish SUP out of the bag along with his paddle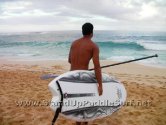 Ekolu checking out the surf with his 9'0" Starboard Superfish SUP

We talked and had a busy week but we decided to connect on Sunday. We decided to meet at Puena Point as I didn't want to go into really big surf. I think double over head is normally my limit and there were still some remnants of the big swell that had come in from the north during the week.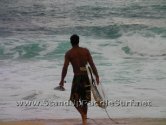 Ekolu doing his best "Baywatch" walk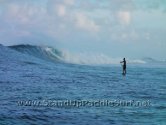 Ekolu Kalama paddling out in big Sunset Beach

When I got out at 6 a.m, I started driving and got to North Shore about 7 in the morning and I went to go check out Puena Point which was about head high or so and only breaking on the inside part in kind of a small area. I don't even think the point was breaking and it was already starting to get crowded. That's when I got a call from Ekolu and he said that he didn't have a ride. The guy whom he was staying with had to go somewhere and he was staying in a house near Sunset Beach. When it's big, I never go to Sunset Beach. I don't want to get pounded.
I told him, "if it's pretty decent out there, why don't we just go to Sunset Beach where I can shoot some videos and we'll see how it goes, because Puena Point was pretty small and crowded." So we ended up at Sunset Beach and as I was driving past it to pick him up, I saw the wave just coming in, just roping right down the line and there were only about five people in the surf.
I was thinking to myself, "I'm not paddling out in that. It's too big for me."
But when I picked up Ekolu and we stopped by Sunset Beach he said, "It's perfect. Let's go, let's go."
I said ok whatever, I'll go." And this is where this video starts.


(click thumbnail to launch video)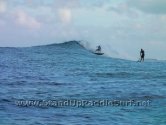 Ekolu paddling out, and a surfer dropping in from behind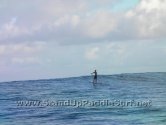 Ekolu Kalama paddling back out

I actually ended up catching some of the biggest waves I've paddled into so far. The first wave I caught started to close out and I straightened out and actually rode it all the way to shore and walked back up the beach. I was on a Joe Blair 10′6″ and it saved me that day. Once it started to get crowded we left and went to eat breakfast at Ted's Bakery.
Related posts