March 16th, 2009 by clarise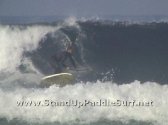 What sets C4 Waterman ambassador Ryan Levinson apart is not the fact that he has spent over a decade competing successfully in national and international level triathlons while still pursuing his passion for water-sports like surfing, bodysurfing, paddleboarding, SUPing, kiteboarding, free-diving, and sailing, it's the fact that he does all this despite continuously loosing muscle. Ryan can no longer do a pushup, a sit up, or even raise his arms over his head but by modifying his technique and equipment he continues to charge forward excelling in the water and on land. As he puts it, "It was not my choice to have Muscular Dystrophy, but I do, and it is my choice how I respond. This is my life. Disabled or not, I choose to live it." For more information visit www.ryanlevinson.com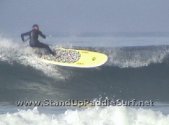 Ryan Levinson on a C4 Waterman 10′6″ classic
Here's a little Q&A we had with Ryan.
How did you get into SUP?
I starting seeing people paddling SUPs at some paddleboard races I was in. It looked like fun so I borrowed a board from a friend and gave it a go. Soon I started paddling SUP occasionally as cross-training for paddling prone. Now I paddle prone occasionally as cross-training for standup. Surfing was a natural progression from flat water. I love both.
How did C4 Waterman initially sponsor you?
Liam from C4 lent me a board and paddle at Dukes OceanFest last year. It was the first time I got to use C4 gear and I was blown away. After the event I visited C4 world headquarters to meet the crew. There can't be a more friendly, dedicated, committed group of people. But to answer your question, I love C4 Waterman gear and have tremendous respect for the company and their contributions to our sport. I'm proud to represent C4 Waterman.
Where's your favorite SUP break?
A reef near Pt. Loma San Diego.
What's your most interesting SUP experience?
A couple of days ago two of us were surfing a remote spot near San Diego when I saw a whale swimming near the surface about 100 meters away in the kelp. Suddenly a sea lion shot out of the water like a missile being launched from a submarine. I'd never seen that before, I didn't even know they could do that. The thing was freaked. That's when I realized it wasn't a whale I saw…
What's your favorite SUP board and paddle?
Right now I'm addicted to my C4 Waterman Sub-Vector. I have a custom unlimited that I love for distance. 8.5″ paddle. How can you go wrong with guys like Parmenter, Keaulana, and Bradley designing the boards and paddles? There is a reason those guys are legends. It shows in the gear they design.
Do you do distance SUP and downwinders? If so, any tips?
Yeah, I love distance. It feels unreal to be offshore, especially hauling ass downwind. Tips? If you keep fueled and hydrated you can go further faster. Also, don't try going huge right out of the gate, you'll just end up injured. If you take time to build distance more slowly and give your body time to adapt you'll be amazed what you can accomplish. Final tip- if you're limiting yourself just to surf you're really missing out.
What advice can you give to beginner surfers?
Get out there and remember that you gotta show respect to earn respect. If you're coming from a surfing background you probably know what I mean. When you are new to surfing you will have a much better time if you avoid spots where 'normal' surfers are out.
The best advice I was given recently was that life works best out when you learn to get out of your own way.
Where were you born and raised?
Born and raised in Florida. Been in San Diego almost 20 years.
How old were you when you started surfing?
Maybe fifteen? I forget but I clearly remember my first ride.
What's the story to how you started surfing?
Standard Florida story. Skateboarding -> drivers license -> surfing.
When did you start sup?
Only about a year ago. It reminds me of the early days of kite boarding. Everything is progressing so quickly and everyone so stoked.
What are your tips for people beginning in sup?
Depends what they're getting into. If they're thinking surf they could probably benefit from a lesson or at least from some time paddling in calm water. I have some friends that rip on a surfboard but can barely stand on an SUP. It's classic, they would kill it if they took a few hours to get dialed in flat water but they're too proud. It's all good, more waves for me…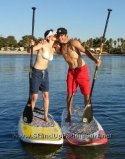 Paddling in Mission Bay with wife Nicole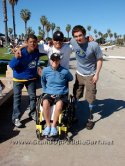 At the HanoHano Ocean Challenge with some friends and fellow paddlers from the Challenged Athletes Foundation
Check out this video to see more of Ryan Levinson


(click thumbnail to launch video)
Related posts