June 3rd, 2009 by davi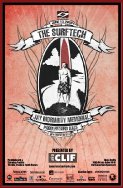 Presented by CLIF BAR

Santa Cruz, Calif. (June 2, 2009) – Mark your race calendar for June 13, 2009 when the 8th Annual Surftech Jay Moriarity Memorial Paddleboard Race presented by CLIF BAR will hit the water. Paddleboarders and stand up paddlers from up and down the coast of California and as far away as Florida and Hawaii will converge on New Brighton Beach in Santa Cruz, California to compete for the coveted "Jay Race" title.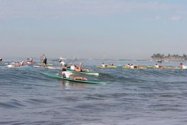 The "Jay Race" is widely recognized as one of the top paddleboard races in North America. The best paddlers in the country come here to brave the chilly waters of the Monterey Bay. They come to test their paddling skills against a field of top competitors and to enjoy the unique setting that only the Monterey Bay and Santa Cruz can provide. "The level of competition for the 12 mile race seems to increase every year," says Gunnar Roll co-race director, "yet despite the high level of competition in the 12 mile course, the 2 mile race is a great opportunity for beginning paddlers and paddlers who aren't quite ready to spend two and a half hours or more giving it all they've got on the 12 mile course."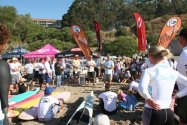 They also come to pay their respects to big wave surfing legend Jay Moriarity. Jay was one of the youngest surfers to ever attempt the massive waves at the notorious big wave break known as Mavericks. To train for the beatings that Jay would inevitably endure at Mavericks, he logged countless hours paddling his paddleboard. Jay passed away in 2001, one day before his 23rd birthday, in a free diving accident while on a surf trip to the Maldives. He will always be remembered for his fearlessness in big waves but more importantly for his friendly, positive attitude towards others in and out of the water.
For the 2009 race, CLIF BAR has stepped up their commitment to the event by coming on board as presenting sponsor. CLIF BAR staff will be on hand passing out their incredible energy bars and other nutrition products including their new sports drink, CLIF Quench.
For more information about the 2009 Surftech Jay Moriarity Memorial Paddleboard Race or to register online, check out the event site at www.surftech.com.
Related posts