January 6th, 2010 by davi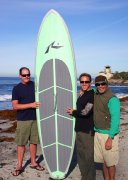 Rusty Preisendorfer with Mike Fox and Bob Reif of Boardworks.
This article was originally published by Transworld Business.
By Josh Hunter
December 21, 2009
There's no denying that general interest in Stand Up Paddling (SUP) is growing at an impressive rate. As more and more people looking for new ways to enjoy recreational water activities are heading out to retail outlets and purchasing SUP equipment, retailers are opening paddle-specific locations, manufacturers are ramping up production to meet demand, and the market sector is fragmenting.

Whether it's for surfing, exercise, racing, or open water paddling there are sub-sectors forming within this burgeoning market—for many, this spells opportunity.
At Boardworks, a company that specializes in manufacturing molded epoxy surf and paddleboards, the business model is evolving to meet market demands brought on by the new found growth. Recently the company's COO Bob Reif announced that it would be creating a Paddle Division, and that Boardworks has also signed a licensing agreement with legendary shaper Rusty Preisendorfer.
TransWorld Business met up with Rusty and Reif to demo some new design concepts and talk shop. Here's what Reif has to say about the new developments at Boardworks.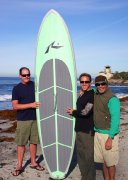 Rusty Preisendorfer with Mike Fox and Bob Reif of Boardworks.
Back in the Spring of 2008 Boardworks International was acquired by C4 Waterman Principal Mike Fox. What has been going on at the company since then and how has the business model changed?
First of all Boardworks is a manufacturer and distributor of surfboard products. It has an exclusive construction technology called Thermal Epoxy Compression (TEC) molding. That technology is unique and has surfing advantages like excellent flex and rebound characteristics allowing for great performance, added buoyancy for easier paddling, weighs less than traditional boards, and are very durable. So Boardworks was a good technology partner for C4 at start up.
Our business model is simple: we take a license from leading shapers to manufacture and market a certain component of their collection in our TEC process and we sell those models around the world. Mike Hynson, Bill Stewart, the C4 crew, Bruce Jones, Ben Aipa, and many others are our clients.
Pretty dramatic changes have happened in the last eighteen months. Boardworks in its older configuration was smaller in scope and ambition. When SUP started to emerge, and C4's sales started to accelerate, it was clear that Boardworks had to change or it, and C4, might miss the opportunity.
The consequence of that conversation resulted in new ownership. Mike Fox—one of the founders of C4—stepped onto the scene and made the purchase. Mike an accomplished waterman, is well known around the Hawaiian surf and business scene.  We are lucky to have him. Try finding a local businessman who "gets" surf and is willing to invest in it!  Our mission is to pursue the opportunities in the board sector with equal emphasis on Surf and SUP.
SUP has emerged as the bright light at retail; our C4 sales certainly reflect that. In this very tough board market our business will grow about 50 percent in 2010.
How has C4—and paddle sports in general—affected Boardworks' business over the past 18-20 months?
The snowboard analogy seems appropriate: remember when it was the "step child" in the alpine world? Times changed, and the same thing is going on with SUP. As one of the fastest growing outdoor sports trends since snowboarding hit the scene, SUP can no longer be considered a subdivision of surf; it is a legitimate category of it's own that is spreading like wildfire to every waterway imaginable, attracting the most diverse collection of athletes that any sport has ever seen.  The process has been predictable, started at the beach, creeping slowly toward valid retail, selling in surf stores. In our case, C4 has great product, and Boardworks finally has enough product to address demand. 2010 is going to be a great year for SUP at retail.
What has Boardworks been doing to get out in front of the growing popularity of SUP and other segments of paddle sports?
C4 is the fundamental, founding brand in SUP. The Hawaiian watermans' heritage, as exemplified by its founders, gives us a head start.  Boardworks is the distributor of C4: we are not C4. Our job is to get the product to the market and sell it. We do extensive brand marketing ourselves, and C4 has the "go to" awareness and demand-building web site for the entire sport.
In doing so we have taken the sport out to the ocean, up rivers, and into lakes across the globe.  We do an extensive demo and retail support program including 8 super "SUP evangelist" reps, a warehouse in Florida and one coming in the Midwest.
Why does it make sense for Boardworks to create a Paddle Sport Division?
The sport is rapidly evolving, and so is the product.  Two years ago, the sport was surf and Hawaii based downwind racing. Now it is surf, fitness, Professional racing with crossings like the Molokai or cool citizen and Pro races like the Rainbow Battle of the Paddle, touring, lake, whitewater and wakeboat use. As the sport has emerged into various categories, new shapers have emerged specializing in one area or another of SUP. Our objective is to bring our TEC construction technology to the market with these category leaders under one umbrella called "the Paddle Sport Division." For the retail community, the Paddle Sport division will be an excellent source for authentic choices for boards, paddles, accessories and branded tees.
What brands do you plan on working with under this particular product silo?
We are on page one in the Paddle Division "book." Of course the corner-stone brand is C4, with its complete line of SUP products. Joining us immediately will be Rusty and Dennis Pang with his race and SUP boards. All are really great names in the sport and have very "retailable" products.  Of course we are in the process of organizing all of this. Goods from Boardworks will start to flow to retail towards Spring.
How long has the deal with Rusty been in the works and how did it come about?
A few months. It began as many surf business matters do, we were SUP'ing one day at the Shores [in La Jolla, California], ran into Rusty, chatted a bit about what ifs, and this is the outcome.
Is it basically a licensing agreement between Boardworks and Rusty for SUP models? What specifics of the agreement can you talk about?
Yes, it's a license, but we need to be clear: Boardworks has the Rusty license to make TEC Stand Up Paddle Boards only. Rusty is a pretty dedicated SUP'er now. He wanted to focus on shaping, not manufacturing. That's when the idea to work with Boardworks began to accelerate.
What types of Rusty SUP boards will Boardworks offer?
The initial offering will be three of his best SUP models, of course, made in our TEC process. The initial offering will cover the 9.8 to 10.8 foot range. You can imagine that they all have that very cool Rusty shape and graphics. We will see where it goes from there.
When will those models hit retail?
We have a small quantity of demo boards now and we will soon begin the demo process with our top dealers. We will start selling January 4th. Our initial run will be limited, so the selling will be "first come, first served." The production boards will reach retail approximately May 1.
Are there any other brands that you've considered working with at this point, and if so can you share those?
In the SUP category, it looks like we are on our way to a new future. But we like small families.  I suppose new opportunities will emerge; we will deal with them as we go. Its important for us to keep within our capabilities and stay right sized for the market.  Boardworks has a strong group of shapers now, so the challenge is to get these products to market.
Even though we are talking SUP, its important to remember that half of our business is surf. There's lots going in that business too!
Related posts