January 14th, 2010 by davi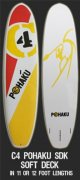 This was just sent in by Greg Wunderlich from C4 Waterman:

Samples of C4's new Pohaku SDK soft deck SUP boards at the Surf Expo tradeshow in Orlando, Jan. 14 to 16, are creating a buzz. These boards have an Acrylonitrile Styrene Acrylate (ASA) skin on the bottom up to the widest point of the rail. Deck and rail are glassed over. The soft deck eva, or Croc Skin, is vaccum bagged onto the deck. The boards are 32" wide with plenty of thickness throughout.

ASA (short for Acrylonitrile Styrene Acrylate) is a copolymer based material that has excellent properties for outdoor applications with its remarkable resistance to prolonged exposure to sunlight, heat, rain and common chemicals, and with its ideal mechanical properties: the actylate elastomer has an excellent resistance to discoloration and degradation from UV sunlight and as a laminate sheet, provides high scratch and impact resistant protection.

We will have pricing available soon.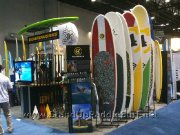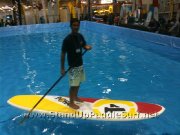 Related posts