August 17th, 2010 by davi

9th Annual DUKE'S OCEANFEST
Broadcast Live Around the World Via Webcast, August 25 through 28
Televised Around Hawaii on Oceanic Time Warner Cable digital 250 & 1250


FOR IMMEDIATE RELEASE
August 17, 2010
WAIKIKI, HI – The 9th annual Duke's OceanFest, inspired by the iconic Duke Kahanamoku and his enduring ocean sports legacy, will commence a week-long celebration in Waikiki starting this Sunday, August 22, through Saturday, August 28.
The 2010 Duke's Oceanfest will be webcast live on the internet at www.dukefoundation.org and televised live in Hawaii on Oceanic Time Warner Cable digital channels 250 & 1250, August 25th through 28th. Oceanic will also rebroadcast the event in Hawaii at a later date
The festivities of OceanFest will include a cultural opening ceremony; birthday celebrations and lei draping at the Duke statue in honor of Duke's 120th birthday; ocean sports events; and many other cultural features. (Complete program of events can be found below.) In addition, Duke's OceanFest t-shirts and other items will be sold each day at the Island Heritage logo tent at Queen's Surf.
Revered worldwide as the "Father of International Surfing", and a three-time Olympic gold medalist in swimming, Duke Kahanamoku (1890-1968) developed his incredible ocean sports skills in the very same arena where Duke's OceanFest takes place: Waikiki.
Duke's OceanFest proceeds go to the Outrigger Duke Kahanamoku Foundation's (ODKF) college scholarships and athletic grants program that supports outstanding Hawaii scholar-athletes competing in water sports and volleyball.
An auction of a one-of-a-kind Duke Kahanamoku longboard by Maui Longboards (pictured above) as well as online and beach sales of commemorative 2010 Duke's OceanFest t-shirts will go towards the ODKF college program.
# # #
CONTACT:
Jodi Wilmott/OceanPromotion
+1.808.258-8533
Email
SCHEDULE OF EVENTS
Sunday, August 22
10am Ho'omana Opening Ceremony, Hilton Hawaiian Village, Duke Kahanamoku Lagoon
Tuesday, August 24
7am Sunrise Blessing, Duke's Statue, Waikiki, Honoring Duke's 120th Birthday
Toes on the Nose/Gidget Kick-Off Party featuring Sashamon
8:30pm, Jimmy Buffet's
Wednesday, August 25 – 7:30am-5pm
Kicker Audio Presents: Toes on the Nose Rabbit Kekai Classic
Gidget Pro Longboard
Bear Financial Group Inc. Tandem Championships
Thursday, August 26 – 7:30am-5pm
Gidget Pro Longboard
Kicker Audio Presents: Toes on the Nose Rabbit Kekai Classic
AccesSurf Challenged Athlete Surfing
C4 Waterman Surf SUP Race (Entry form)
Friday, August 27 – 7:30am-5pm
Hawaiian Airlines Duke's Legends Surf Classic
C4 Waterman SUP Surfing Championship
Duke's Waikiki Beachboy Celebration
4-6p.m. – Duke's Restaurant, Waikiki
Free Movie: Pacific Vibrations
8p.m. – Outrigger Reef Hotel, 7:30pm, limited seating
Saturday, August 28 – 7am-5pm
5pm Waikiki Lei Parade & Draping Ceremony – Duke's Statue, Waikiki
Hawaiian Airlines Duke's Legends Surf Classic
Maui Jim Presents: 2010 Hawaii Paddleboard Championships – Duke's Race
Duke's Waikiki Ocean Mile Swim
Corona Surfing Expression Session
Outrigger Hotels & Resorts Surf Polo Tournament
Corona Beach Volleyball Championships, Presented by Outrigger Hotels & Resorts
The Great Hawaiian 105 KINE Luau, 6p.m. – Waikiki Aquarium
Tickets $60 available online – www.hawaiian105.com
Free Movie: The Ride, 8p.m. – Outrigger Reef Hotel, autographs at 7:30pm, limited seating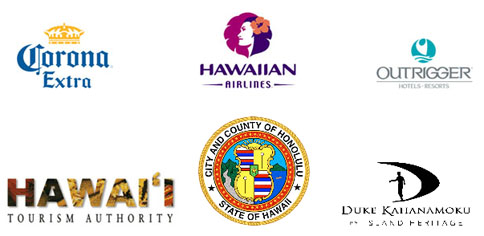 Related posts