August 25th, 2010 by davi

WAIKIKI, HAWAII: QUEENS SURF GOES LIVE TODAY
WITH DUKE'S OCEANFEST
Live Global Webcast at dukefoundation.org
Televised Around Hawaii on Oceanic Time Warner Cable:
Digital Channels 250 & 1250


August 25, 2010
WAIKIKI, HI – The welcoming waves and aqua waters of Waikiki offer a Hawaiian respite to ocean fans around the world starting today, through Saturday, as the annual Duke's OceanFest commences live broadcast of its ocean sports events. All 10 ocean events & 900 athletes can be viewed in real time action at dukefoundation.org, and on Oceanic Time Warner Cable digital channels 250 & 1250 around the Hawaiian Islands.
First up today: the world's top longboarders in the Kicker Audio Presents Toes on the Nose Rabbit Kekai Classic and the Gidget Pro Longboard; followed by the grace of tandem surfing in the Cabana's Pool Bar & Nashville Waikiki Tandem Championships. (Four-day schedule below.)
If a last minute Hawaiian getaway is out of the question, then we welcome you to celebrate the life and legacy of the world's greatest aquatic athlete, Duke Kahanamoku, with us via the internet. Revered worldwide as the "Father of International Surfing", and a three-time Olympic gold medalist in swimming, Duke Kahanamoku (1890-1968) developed his incredible ocean sports skills in the very same arena where Duke's OceanFest takes place: Waikiki.
Duke's OceanFest proceeds go to the Outrigger Duke Kahanamoku Foundation's (ODKF) college scholarships and athletic grants program that supports outstanding Hawaii scholar-athletes competing in water sports and volleyball. An auction of a one-of-a-kind Duke Kahanamoku longboard by Maui Longboards, as well as online and beach sales of commemorative 2010 Duke's OceanFest t-shirts will go towards the ODKF college program.
BROADCAST SCHEDULE: Wednesday, August 25:
7:30am: Kicker Audio Presents: Toes on the Nose Rabbit Kekai Classic Round 1
10:30am: Gidget Pro Longboard Round 1
1:10pm: Cabana's Pool Bar & Nashville Waikiki Tandem Championship Round 1
2:10pm: Kicker Audio Presents: Toes on the Nose Rabbit Kekai Classic Quarter Finals
3:30pm: Cabana's Pool Bar & Nashville Waikiki Tandem Championship Semi-Finals
4:20pm: Gidget Pro Longboard Quarter Finals
5:40pm: Cabana's Pool Bar & Nashville Waikiki Tandem Championship FINAL
Thursday, August 26 Sporting Events:
Kicker Audio Presents: Toes on the Nose Rabbit Kekai Classic
Gidget Pro Longboard
AccesSurf Challenged Athlete Surfing
Cabana's Pool Bar & Nashville Waikiki Tandem Legends
C4 Waterman Surf SUP Race
Friday, August 27 Sporting Events:
Hawaiian Airlines Duke's Legends Surf Classic
C4 Waterman Surf-Off
Saturday, August 28 Sporting Events:
Corona Beach Volleyball Championships, Presented by Outrigger Hotels & Resorts
Duke's Waikiki Ocean Mile Swim
Outrigger Hotels & Resorts Surf Polo Tournament
Maui Jim Presents: 2010 Hawaii Paddleboard Championships – Duke's Race
Hawaiian Airlines Duke's Legends Surf Classic
Corona Surfing Expression Session
# # #
CONTACT:
Jodi Wilmott/OceanPromotion
+1.808.258-8533
Email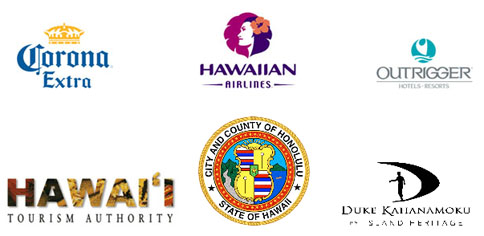 Related posts