February 10th, 2011 by davi

Na Kama Kai Youth Challenge
for immediate release
Contact: Dawn Goonetilleke, dawn.goonetilleke@watermanleague.com, ph. 805-459-5940
NORTH SHORE, OAHU. (February 10 2011) The Na Kama Kai Youth Challenge
Event: Na Kama Kai Youth Challenge, A Stand Up Paddle Contest for youth 16 and under, Presented by Turtle Bay Resort
Final Results:
1st Bernd Roediger, 14, Maui, HI, USA
2nd Matt Becker, 16, Santa Barbara, CA, USA
3rd Kody Kerbox, 16, Maui, HI, USA
4th Ridge Lenny, 13, Maui, HI, USA

Maui's Bernd Roediger, 14 years old, who just competed in massive waves at the Sunset Beach Pro, took the win at the Na Kama Kai Youth Challenge that took place at Turtle Bay Resort this morning on the North Shore of Oahu, HI. He was presented with a certificate from www.hawaiianpaddle.com for a Leleo Kinimaka hand crafted paddle. Bernd the only one doing switch stance here today was followed by close second place finisher Matt Becker, 16, from Santa Barbara, CA, also currently one of California's ;eading Stand Up Paddle racers. Third and Fourth place finishers, Maui's Kody Kerbox, 16, and Ridge Lenny, 13, great athletes in their own right, also competed in the Sunset Beach Pro Trials earlier this week.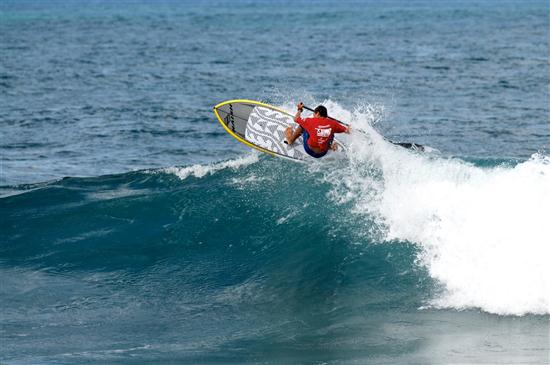 The Event and its celebrity Panel of Judges
The Na Kama Kai Youth Challenge, presented by Turtle Bay Resort, is a stand up paddle contest for the youth, 16 years and younger that is hosted by the Waterman League. Master of ceremonies this morning was the founder of Na Kama Kai, recent competitor in the Sunset Beach Pro and World Champion Long Boarder, Duane DeSoto. Duane took a moment to thank one of the guest judges, Kai Lenny the 2010 Stand Up World Champion, who gifted the Na Kama Kai foundation a large portion of his recent Hawaii Island 1st place winnings.
Joining Kai Lenny in the celebrity Judging panel was Robby Naish, Ocean Sports legend, multiple times windsurf world champion, kitesurfer and now a driving force in stand up paddling. We also had Kamaki Worthington joining Kai and Robby: Kamaki is local to Sunset Beach and posted the highest single wave score of the Sunset Beach Pro this year, finishing in 5th position. This celebrity panel was then complemented by our regular Stand Up World Tour Judges, who helped to steer our panel in the right direction according to Stand Up World Tour judging guidelines.
A big thank you to Turtle Bay Resort for hosting this spectacular Youth Challenge today, as they played their part in supporting the continued development of the sportby providing this opportunity for the kids, the sport's future.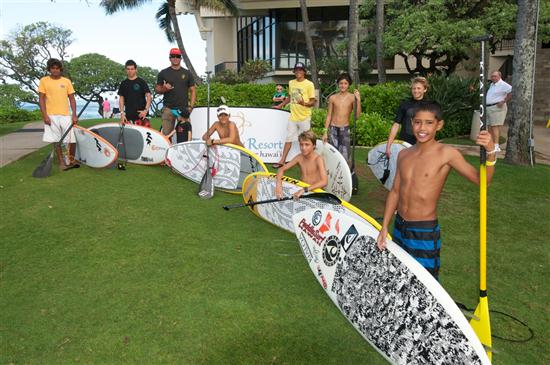 Highlights from the Sunset Beach Pro
You can check out highlights from the Sunset Beach Pro and the Na Kama Kai Youth Challenge, presented by Turtle Bay Resort at www.standupworldtour.com. More highlights will be going up over the next few days, so check back as new content will be released online. You will also find photos and information on the Sunset Beach Pro as well as on the next stops on the dynamic Stand Up World Tour in 2011.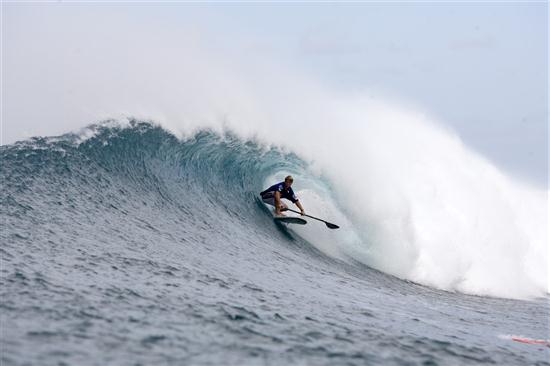 About Na Kama Kai
Na Kama Kai's mission is to empower youth by creating, conducting and supporting ocean-based programs, specifically targeting ocean awareness & safety in order to increase the capacity of youth in the community through cultural & environmental education.
Duane DeSoto the founder & president was born and raised on the west side of Oahu. His love for the ocean and appreciation of the waterman lifestyle has nurtured his dream of giving back to his community. This dream came to fruition with the establishment of Nā Kama Kai. Duaneʻs passion for the ocean continues to sustain his lifestyle and allows him to engage in nurturing the community through Nā Kama Kaiʻs youth programs.

About the Waterman League
The Waterman League is dedicated to the development and promotion of Ocean Sports as a collective by working closely with athletes, governing bodies, sponsors, media agencies, television networks, event organizers, regulatory agencies, environmental initiatives, host countries and locations, to build a communal platform for both enthusiasts and mainstream audiences alike.
The Waterman League is a stamp of authenticity and credibility: our goal is to personalize the delivery of professional sporting coverage, to entertain both mainstream and core audiences alike. We steer away from the generic cliché to leverage innovative events, world class athletes and their stories and endeavors in the delivery of unique and tangible experiences across all media platforms.
For more information about the Waterman League, its management and production team and its advisory board, please email: info@watermanleague.com.
Related posts