February 10th, 2011 by evan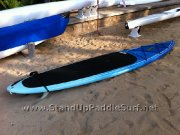 Here's a short video of the Surftech Munoz 12′6″ Wateryder SUP Stand Up Paddle Board. This is a great cruising / all-around board and I really like that it has a lot of screw mounts that you can use to store your gear. The board cruises nicely in flat water and surfs pretty good on small waves. I haven't tried surfing it on bigger waves yet.

I've been playing around quite a bit with 12′6″ boards for days that have small waves and light winds. It's big enough to catch small waves and provide a fun ride and if the waves get boring then I have snorkel gear packed on the front and can swim around and snorkel and check out turtles, fish and whatever else is in the reef. Sometimes if there aren't many waves, I'll just snorkel around and drag the board by the leash back to shore so I get different exercise.
I did a quick video so click below for the video preview.


(click thumbnail to launch video)
Specs and info from Surftech's site:
Specifications

LENGTH: 12′6″ / 381 cm
NOSE: 13″ / 33.02 cm
MID: 29.5″ / 74.93 cm
TAIL: 16.25″ / 41.28 cm
THICK: 4.5″ / 11.43 cm
VOLUME: 183 L
FINS: FCS, 2+1 SURF10 / MUNOZ 7.5 center
TECHNOLOGY: Tuflite

Description

The 12′6 Wateryder SUP is great board. It can be used for fast paddling, semi-race distance, expedition, tandem riding, fishing, diving, photography, and, "riding waves of pure fun." Anyone from adults, to kids, and even dogs can enjoy this board.

Size of Waves:
"As small as you can, as big as you dare!" – Mickey Munoz

Special Features:
Inlaid handle
Deck traction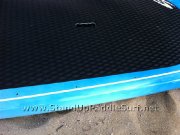 Attachment points throughout the sides of the board
Net attachment to hold various gears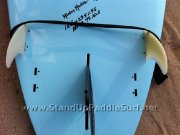 With 5 fin boxes for flexible fin setup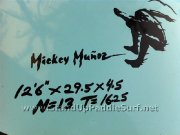 Dimensions
Related posts