February 9th, 2011 by davi

Maui's Kai Lenny wins again at the Sunset Beach Pro.
for immediate release
Contact: Dawn Goonetilleke, dawn.goonetilleke@watermanleague.com, ph. 805-459-5940
SUNSET BEACH, OAHU. (February 9 2011) Maui's Kai Lenny wins again at the Sunset Beach Pro.
Event: 2011 Stand Up World Tour, Sunset Beach Pro
Final Results:
1st Kai Lenny, Maui, HI, USA
2nd Robin Johnston, Oahu, HI, USA
3rd Peyo Lizarazu, The Basque Country, France
4th Zane Schweitzer, Maui, HI, USA

Maui's Kai Lenny, who has just come off of winning the stand up world tour world championship in 2010, added another major win to his record by once again claiming the title at the Sunset Beach Pro this Wednesday at Sunset Beach on the North Shore of Ohau, HI.
The Sunset Beach Pro started with 20 foot plus waves for the trials and first rounds of competition, crashing in from the North West. With the waves cleaning up for the main event it became more of a technical competition as the riders showcased their skills compared to the first days of big wave surfing.
During the Finals Kai Lenny took the lead early on with Robin Johnston in close second. As the final drew to a close Robin needed a 7.25 to take the win. With 45 seconds remaining Robin caught an incredible last wave that threw the outcome into question. The results were announced on the winner's podium, with Kai Lenny narrowly beating out Robin Johnston by 0.1, the narrowest victory ever on the world tour. Robins last wave score was a 7.15.
"To be perfectly honest I didn't know what was going on. You can't hear the announcer out there and I felt like I was doing pretty well. I was looking for that one better wave and I couldn't find it, but it
was pretty nerve-wracking." said Lenny.
Kai Lenny wins his second consecutive Sunset Beach Pro. Lenny is the first Stand Up Paddling World Champion and at the tender age of 18 his future looks promising."I'm stoked that I'm staring the year off good again."
This contest featured nearly 100 competitors from around the world.
This is the first of 8 events in the 2011 Stand Up World Tour, the next event will be in Brittany France. There are a total of 8 events around the world giving riders a chance to accumulate points.
Tentative Stand Up World Tour Schedule
Sunset Beach Pro, Hawaii (completed)
Brittany, France (May)
Tahiti, French Polynesia (May)
Chile (July)
Brazil (August)
California, USA (September)
Australia (November)
Hilo, Hawaii Finals (December)
Stand up paddling is the fastest growing water sport in the world which originated in Hawaii.
Recreational stand up paddling can be done on any body of water (ocean, lakes, rivers,..) creating a vast appeal to the masses.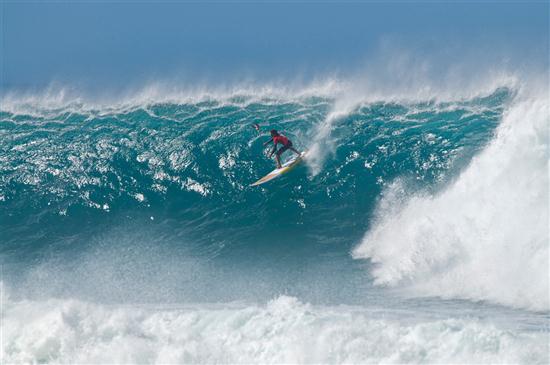 About the Waterman League
The Waterman League is dedicated to the development and promotion of Ocean Sports as a collective by working closely with athletes, governing bodies, sponsors, media agencies, television networks, event organizers, regulatory agencies, environmental initiatives, host countries and locations, to build a communal platform for both enthusiasts and mainstream audiences alike.
The Waterman League is a stamp of authenticity and credibility: our goal is to personalize the delivery of professional sporting coverage, to entertain both mainstream and core audiences alike. We steer away from the generic cliché to leverage innovative events, world class athletes and their stories and endeavors in the delivery of unique and tangible experiences across all media platforms.

For more information about the Waterman League, its management and production team and its advisory board, please email: info@watermanleague.com
Related posts