August 30th, 2010 by evan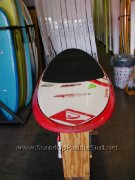 I was at Surftech's Hawaii office on Queen Street and got some pics and video of the Jamie Mitchell 9′8″ SUP. This model has a much more pulled in nose and has substantial nose rocker. I was told that this is more of a high performance board for bigger, juicier waves. Here are the specs below and a short video preview.



(click thumbnail to launch video)
Here's info taken from Surftech's site:
Specifications
LENGTH: 9′8″
NOSE: 18.75
MID: 28″
TAIL: 16.5″
THICK: 4.25″
VOLUME: 135 L
FINS: 2+1 Futures side fins, 8″ Surftech Center
TECHNOLOGY: Tuflite

Description
Jamie Mitchell is one of the most prolific watermen of our time, he knows no boundaries. The 8 x Molokai to Oahu Paddleboard Race Champ is nothing if not versatile. From paddling the treacherous Molokai channel to charging death-defying waves on his 9′8″ SUP, Jamie is not one to back down from a challenge. Master craftsman, Randy French had to take Jamie's versatility into consideration when designing his 9′8″ SUP. The rounded pintail and moderate bottom curve allow the 9′8″ JM Model to handle large steep waves yet it's loose enough to rip your local beach break apart! This board is ideal for the intermediate to advanced SUP surfer who wants one board for a wide variety of conditions.

"My new JM Surftech 9′8″ works in just about anything! Whether its 2 ft Burleigh Heads, 8 ft Sunset Pt, or some heaving slab somewhere, it's designed to handle a variety of conditions. Plus Surftech's Tuflite material makes my board nearly bullet proof! I love it." – Jamie Mitchell

Whether he's winning the Battle of the Paddle, or charging the world's biggest waves, one of the sports' premier waterman is leading the SUP charge.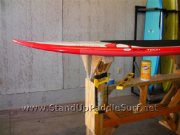 The nose rocker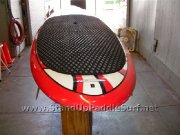 Rounded pin tail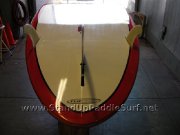 2+1 fin setup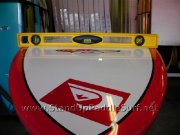 Flat bottom on the nose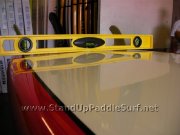 "V" bottom at the tail
Related posts