September 14th, 2013 by davi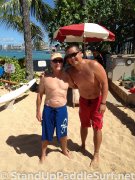 I finished my SUP surf session and a guy started asking me about the equipment I was using. After a minute or so I asked him, "Are you Mickey Munoz ?" to which he responded, "Yes!"
Since Mickey Munoz is legendary I pulled out my iphone and shot a quick interview. I first tried the stand up paddle on a rented 12′x26″ Mickey Munoz Surftech Softop board in Waikiki. I couldn't stand for more than a few seconds. Times have surely changed and the equipment has gotten so much better.
Mickey has been working with C4 Waterman and has shaped and designed a few boards for them which are currently in production. He also shared some of the boards he is working on. Check out the video below.


(click thumbnail to launch video)
Here's another video where Mickey talks about one of his experiments.


(click thumbnail to launch video)
Related posts