January 12th, 2014 by evan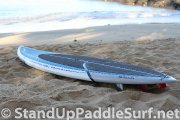 I've been meaning to try out the SIC Recon 10 SUP after I saw the pictures of Livio surfing it and talked to Mark Raaphorst about how the board would perform on the South Shore of Oahu so I recently picked one up. The S.I.C. Recon-10 stand up paddle surfing board pretty much looks and feels very different from what I'm used to.
I've paddled over 100 boards since I started this site but the recon is different. It looks like an almond…skinney tips and fat center. Since there hasn't been much trade winds here recently, I haven't been able to train downwind and I'm tipping the scales at 215-220 lbs. The Recon 10 has no problem floating me and the glide is unreal. It reminds me of my Bullet 12 where the glide is noticeable. This is a great board to cruise on and paddle a harbor or coastline while also being a great surfing board for the heavier rider that wants something that can turn like a 9′6″. This board delivers.


(click thumbnail to launch video)
Here's the SIC promo video.

(click thumbnail to launch video)
The drawn in nose allows the board to feel more at home when riding down the line or as the wave steepens up a bit. The narrow tail when ridden as a quad turns on a dime and feels like a shorter board. This is the only board I currently ride as a quad. It takes time for me to dial in the quad feeling but I'm really enjoying the way I can turn it and at least feel like I'm making better turns. I also let my brother in law paddle the Recon and he's a landlocked PhD engineer in his late 40's. He lives in the mainland and almost never gets to the beach but he got up and balanced on this board just fine. He refused to paddle with me for a few years after trying a narrower board on a windy day.
One thing you can count on is that Mark worked his magic again on the way the board glides. I'm not sure what it is but I can easily keep up with other surfing SUP's on the Recon and get into waves that I wasn't able to before. If you get a chance, you should test out this board. I think you won't be disappointed, especially if you are big and heavy.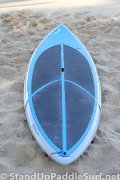 Tapered nose and tail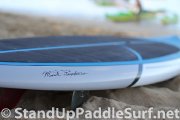 Designed by Mark Raaphorst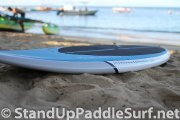 The nose rocker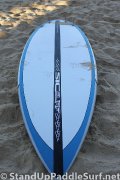 Bottom view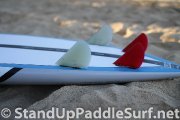 The Recon-10 rides well with a quad fin setup
More info from taken from S.I.C.'s site:
Recon-10

Performance Surf: The big brother of the ReCon 9, this board easily drops in on slower breaks and is great for mid to larger sized riders. The Recon 10 gives you a 96 feel on a 106 ride. Complete with (4) SIC fins (FCS compatible). It can be ridden as a quad, tri or twin fin.
Related posts